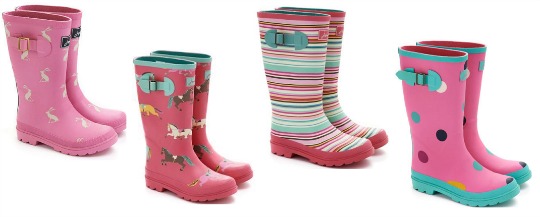 Whether you agree with it or not, Joules on eBay split these wellies into different catergories - boys and girls. Luschka blogged the "Boys" last week and there's still some available from £10 but this is Joules offering for the girls.
They start at £10 delivered with the Printed Welly in Multi Spot* and these are available in sizes 13, 1, 2 and 3. The Hare Print* are £15 delivered and also have the most sizes in stock, they start at 9 and go right up to size 1. The Pony Print* are a bit of a bargain at £14.95 delivered as they're only available in 5, 6 and 7, while the smaller sizes are sold out, these would fit many mums I know at this bargain price. The Multi Mix* are also £14.95 and they're available in sizes 7, 10, 11 and 12.
You'll save between 50% and 59% depending on the pair you choose. Wellies are an all year round item in our house. Whether it's for the Scottish rain, camping holidays coming up or just to get organised for winter, if you're a fan of Joules, these wellies are a great price at the moment.
Standard delivery is automatically free and should take around 3 to 4 working days.