FREE Delivery On ALL Full Price Footwear @ Start-Rite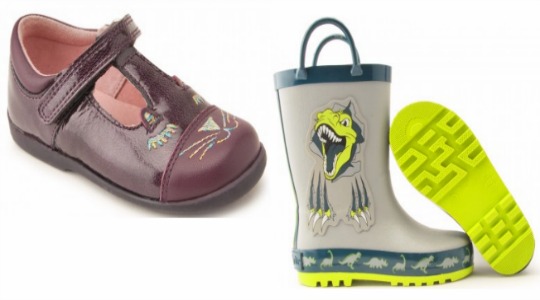 Start-Rite are a popular Children's Shoe retailer and have an astounding reputation. From now until Friday, 13th November, you can get FREE delivery on ANY full price Footwear at Start-Rite. If you are needing to buy that first pair of shoes or replace a worn out pair, now's the time to get them. Start-Rite also offer FREE returns, so don't worry too much if you aren't sure of a size. You won't be left out of pocket at all.
Full price Shoes start from just £12 at Start-Rite. They offer a great selection for Babies, as well as older Boys and Girls.
If you are looking for Wellies then we like these Roar Glow Grey Boys Water Resistant ones*. They are £20 a pair and feature a fleece lining to keep those little feet cosy.
These Jo II Navy Blue Leather Shoes* for £37, were the shoe of choice for Prince George. We can see why... they are adorable, and are quite traditional looking. If you remember seeing those photos in the newspapers, you may be shocked when I tell you, that was roughly a year ago.