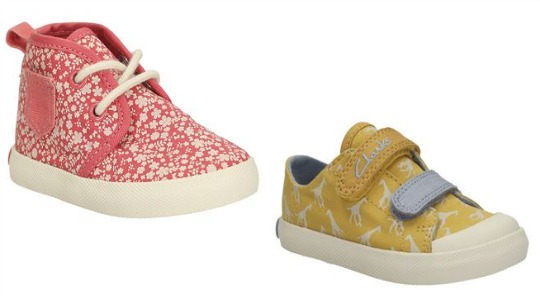 A wee while back, I told you guys about the £10 pairs of Children's Shoes in the Clarks sale. This time I am telling you that they have added more and taken off more too. Now Children's Footwear starts at just £9. Clarks shoes are super popular so you might want to look at the new stuff sooner rather than later.
There are some lovely additions to the sale including sandals like these Ayla Moon*ones. They are reduced from £32 to just £22 delivered.
Some shoes have as much as 60-70% off: Adven Go Jnr* was £34 now £10 delivered, Club Solar Jnr* was £34 now £10 delivered, Epsie Play Inf*was £34 now £12 delivered , Dancewhirl Inf* was £32 now £10 and Dancestrut Inf* was £30 now £10 delivered.
Other great deals include: Halcy Walk Fst*was £20 now £10 delivered, Briley Fun Inf* was £22 now £15, Wing Ting*was £18 now £9 delivered and Halcy Hop Fst* was £20 now £15 delivered.
Don't worry if you are worried about whether they will fit or not, Clarks offer FREE delivery on orders and FREE returns.