Children's Footwear From £7 Delivered @ Clarks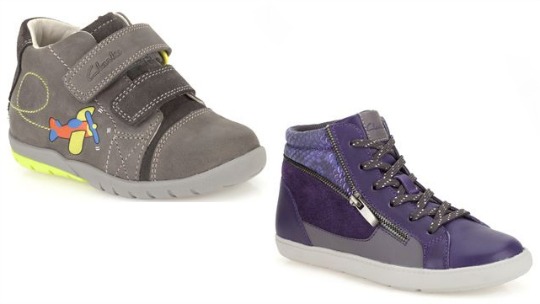 We know that many of you are Clarks shoe fans so when we spotted the Seasonal Reductions, we just had to share. Footwear starts from just £7 and like always you can collect in store for FREE or opt for home delivery which will also cost you zero. If you aren't sure of what size will fit best, then they do FREE returns too meaning you can buy both and return one.
The footwear included in the Clarks Seasonal Reductions is a mixture of boys' and girls'. There is definitely a better choice for the girls but that is always the way.
For those little ladies... The Zita Snake Purple Leather Boots* was £40 now £20 delivered, Sleep Dance Slippers* was £14 now £7 delivered and the Flora Rey First Boots* was £36 now £18.
And for those little men...Holbay Hi Boots* was £38 now £20, Softly Fly Grey Leather Shoes* was £36 now £26 and Spencer Boy Slippers* was £16 now £8.
There isn't pages and pages of reduced shoes but there is enough of a choice to bag a bargain.