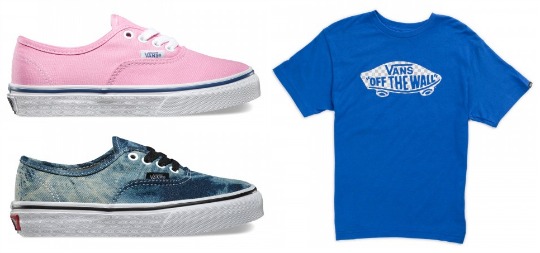 I must admit I am a sucker for a pair of Converse or Vans and have several pairs in many different colours, they are just so handy to throw on when on Mummy duty! I also buy a pair in the sale every year for my little girl as they are perfect for when I'm trying to drag out buying the expensive Winter boots in the Autumn! The Vans website currently have up to 50% off across all ranges including children's clothes, accessories and shoes. I will be stocking up!
These Checker T-Shirts* are a great price at £8.50 instead of £17 and these Toddler Vans Shoes* are now half price at £12.50. I love this Old Skool Backpack* perfect for back to school in September, it's now half price at £15. I'm hoping I can squeeze my little size 3's into these pretty pink Vans Authentic Shoes* which are now half price at £15 or how about these Denim Authentic Vans Shoes* half price at £16. There are lots more bargains to be had in the women and men's sections.
And the cherry on the top is that Van's offer FREE delivery on all orders! Hurrah!