Woolworths.co.uk Back To School Review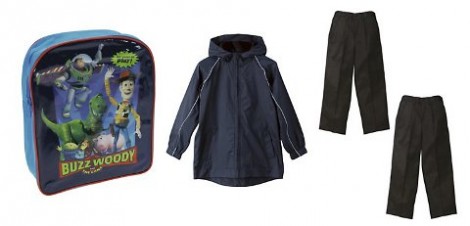 It's rare on PlayPennies that we hear a man's voice, so when it happens it's rather exciting! When we received a bunch of back to school goodies for a boy, we asked Edward, the five-year old son of Samantha, one of our PlayPennies mums for his feedback.
I must admit, I really miss Woolworths. They were great for browsing odds and ends, and while the online store is great, it just doesn't feel the same. None the less, we received a back pack and some back to school clothes and thought we'd put them to the test for you.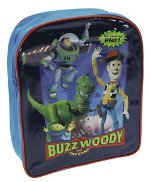 First up was the Toy Story 'Buzz and Woody' back pack (for £8.99). Apparently, Edward liked them.  "It was easy for me to carry", he told us, "as it's not too big." Mum had a different view though, as she felt it wasn't big enough for a school bag.
"If you wanted to use it as a school bag you might have trouble fitting a lunchbox and other school paraphernalia in it," she said.
The straps are adjustable and the front Toy Story design is wipe clean - a good thing for boys, said Mum,"… as their bags tend to be unceremoniously dumped in the playground, at the park on the way home from school and then again when they get home."
Of course, it's that time of year again where parents with children of school going age are on the prowl for the best bargains on back to school wear, and Woolworths have always had great prices to offer.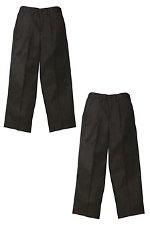 For example, starting from £10 - £16 depending on size, the Top Class Pleat Front Black Trousers went down really well with Edward's Mum, although Edward himself just shrugged and said "They're trousers." Can't get much past that one, can we!
But he's not too far wrong. What can you really say about black school trousers?
"They're black," (they do come in grey and navy too) "and have an adjustable waistband" Mum told us.  She did have some useful insights though, saying "this is very handy and, to be honest, we'd be lost without it or would have to do battle with belts; belts and five-year-olds really don't mix well."
Really, it's the quality I'd have questions over, because a great price is only a great price if you don't have to buy two or three times the amount to replace items throughout the year. "The trousers are of a decent quality for the price and they're teflon coated too; again, handy for boys who have scant regard for keeping anything clean and think nothing of clambering up trees with their school uniform on."
Samantha feels the way most of us do, I'm sure. Why pay a fortune for something short lived?
"I'm happy not to pay a premium for school trousers quite frankly - children of a certain age grow like weeds and why would you pay a massive amount for trousers that they're going to grow out of in the blink of an eye?"
So Samantha's final words on the trousers  from Woolworths were positive:
"They washed well and dried quickly and if Edward's school trouser colour was black then they'd definitely be added to his school trouser collection."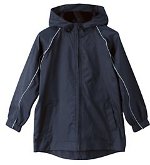 Finally, the Top Class Zip-up Jacket also ranges from £10 - £16 depending  on size, but our mum and son pair were less enamoured by it.
"The rain jacket folds ups small, is light weight, looks ok and has a thin reflective strip, but other than that it's plain - Edward really didn't like it!  His first reaction when he saw it was, 'It's BORING!'"
Thing is, that's probably what you need for 'Back to  School', if you need a jacket to conform to school rules.  While it might not be great for taking on holiday – I saw a kid with a Ben 10 one yesterday and he refused to take it off, even indoors! – it is ideal for school. Especially since it folds up small.
"Short of making Edward stand with the jacket on and pouring water over him from a watering can, I can't vouch for the waterproofness of the jacket and I haven't been able to convince him to wear it - I was up for that, it sounded quite fun to me, but Edward wasn't so keen!"
Overall Samantha couldn't find fault with any of the things she was sent – she felt  they were good value for money, the coat will conform to most school uniform rules, and the bag, though small, was great for small boys.