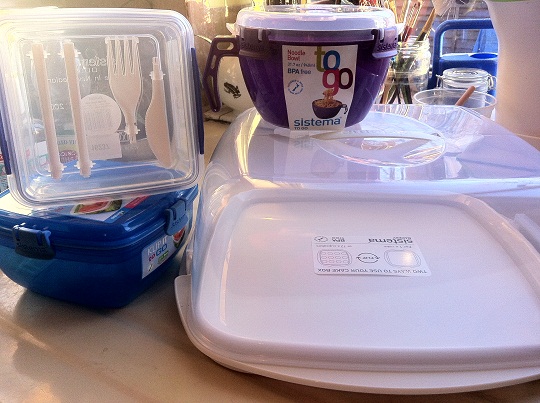 You may think I have lost the plot. But. I've found a range of plastic containers I love so much I would marry them if I could. You can guess from the tone that this will be a largely positive review. However, I have had these containers for a few months now, and they aren't perfect. It is a very hands, practical on reveiw as well.
The range comes from a company called Sistema, and all the containers are BPA free. I had never heard of Sistema Plastics before, which is surprising as they've been making plastic containers for the last 30 years, and are a New Zealand company. Which is where I'm from. But the simple truth is this. You don't know you need food storage containers until you have children. Then you can't live without them.
Sistema Reversible Cake Box
I have taken the Sistema Reversible Cake Box everywhere (£23 at John Lewis*). It has transported cakes and cupcakes to friends, the PTA cake sale, my son's class party, and the street party we had last weekend. I will be honest and say that the price on this cake box made me gasp. It seemed a lot for a cake container.
However, this is really well made. It is sturdy, and spacious. The box has an 8.8L capacity which is big enough for a double layer cake. I wasn't convinced that the cake's plate wouldn't slide about in there, so I did put a cloth undernearth so it wouldn't move during transport.
Like all the Sistema containers, the genius is in the clips. These are so easy to use - to clip on and unclip. But once in place the container feels welded together.
The carry handle on this is also well thought out. I carried it the half mile to my son's school really comfortably.
The base is flat on one side, and with circular indents on the other for holding cupcakes. Another genius idea. Although it won't hold enough for a class party, as there are only 12 holders in there. For most purposes it works just fine.
 Sistema Salad Klip It to Go 1.1litre
My second favourite after the cake box is the Sistema Salad Klip It to Go 1.1litre box (£6.49 at Lakeland). If you only buy one plastic food container for the summer, then buy this. It is all you need. The box has two compartments. Fill the main one up with salad. Or, if you like, I did manage to get a sandwich in there. Then in the top tray, put some snacks. If you use the small container that sits in the middle for a dip like hummous then you've pretty much got everything you need for a day out in one container.
There is one slight drawback though. There is a knife and fork clipped to the underside of the top tray. I discovered this can be a problem if you decided to eat your salad before you finish all the olives you put in the tray.
The knife and fork clip together well, and it is easy to see at a glance where they go when you put them back. There's virtually no movement of the snacks in the upper tray, so it wasn't an issue if they weren't 'compatible' with whatever was in the bottom.
I've taken this out on every day trip we've done this spring, and I couldn't live without it. In fact, I am taking it with me on holiday!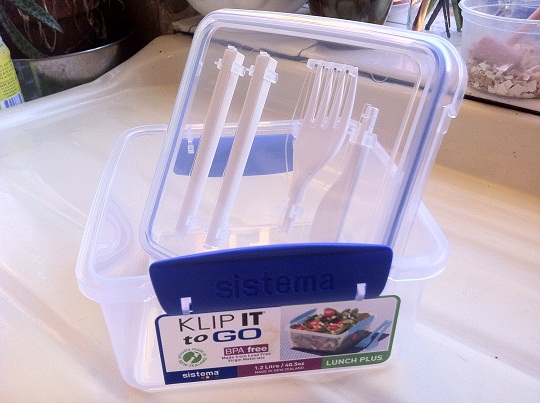 Sistema Lunch Plus Klip It to Go 1.2litre
Another handy container for days out is the Sistema Lunch Plus Klip It to Go 1.2litre (£4.99 at Lakeland). You can see everything you need to know about this one from the photo. It is a fairly large box, and I sometimes used it for sale, but at other times I put a smaller salad container in there, along with a sandwich for son, and a snack. It was handy to have the knife and fork clipped to the underside of the lid.
The lid clips down on all four sides, and holds the container together really securely. However, it is easy for even small hands to open. Like all Sistema containers, the plastic is sturdy, and fairly thick. There are cheaper containers out there, but thinner and not as robust.
Sistema Klip It Noodle Bowl To Go 940ml
This is what you want if your kids like noodles and you have a microwave. I can answer yes to the noodles, but no to the microwave! The Sistema Klip It Noodle Bowl To Go 940ml (£8.65 at OnlineKitchenware) is designed to ensure you have perfectly cooked noodles in minutes. I can't tell you if that is true as I couldn't use that part of it.
The container has a vent on the top that can be fully closed, and a good sized, grippable handle.
What I have used this for was for car journeys. I can pop in some hot food in there - normally a variation on mashed potatoes, noodles or pasta. Rice is a bit too tricksy. Then son can hold it with one hand and eat using the other (and a fork of course).
I probably wouldn't buy this unless I had a microwave, but I have to say it has come in really handy.
Overall verdict
This has never happened before, but for the very first time ever I am giving every single product I reviewed in this range a full 10 out of 10. In fact, I've already gone on and bought more from their container range - the sandwich boxes. Expect a review soon!