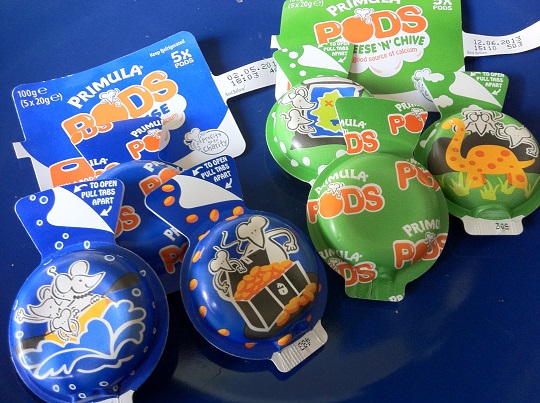 What is it about cheese and lunchboxes? I have no idea to be honest, but it does seem to be hugely popular. Talking to the year 3 lads my son goes to school with, it is because cheese is yummy, easy to eat, and filling. The mums say something similar, and that it is a good way to get protein and calcium into them.
When my step son was six he ate those little cheese triangles by the bucket load. Given the choice of a cheese slice or chocolate bar for a snack, he would choose cheese.
The market has come on a huge way since then, and seems stuffed full of cheese snack options. So do we really need another one? Primula think we do, and they've launched the Primula Pods, aimed specifically at the lunchbox market.
We got samples of both flavours to try out. Read on to find out how they fared.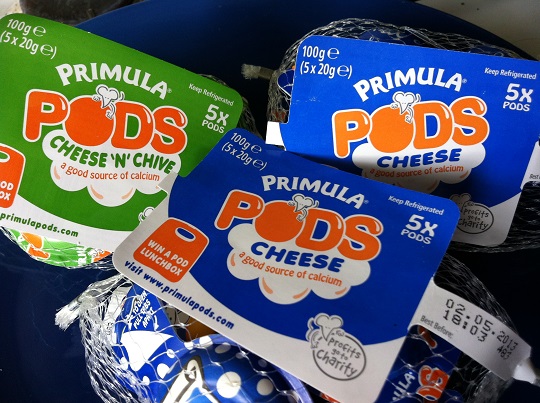 Primula Pods come in net bags with five 20g pods per bag (one for each school lunch). The bags are priced around £1.25 each - may vary instore - and are sold through Morrisons, Spar, Londis, Nisa and Budgens.
There are two flavours, cheese, and cheese 'n chive. The one with chives has little green flecks in it, which may be off putting to some children. My youngest son is OK with that, but our older two would have just refused saying "we don't eat grass".
The cheese itself is solid - a firm, round cheese a little like Baby Bell, but not quite as cheddar-ish. In the mouth it tastes creamy, and has a good flavour with no chemical overtones (my pet hate when it comes to processed cheese).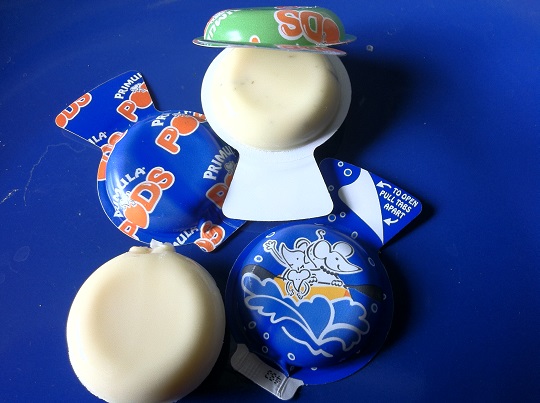 The cheese flavour was more of a hit on its own, however the cheese n chives when down well when teamed up with some savoury crackers.
The little plastic pods were a bit of a hit. First, they are quite firm so cheese doesn't get squished in the lunch bag. Next, they're really easy to open, even for my son who has difficulty applying pressure with his fingers. And finally, there are cartoons on the pods. Now I think these tie in with game on the website, but I didn't really get a look in as my son and his friend monopolised it.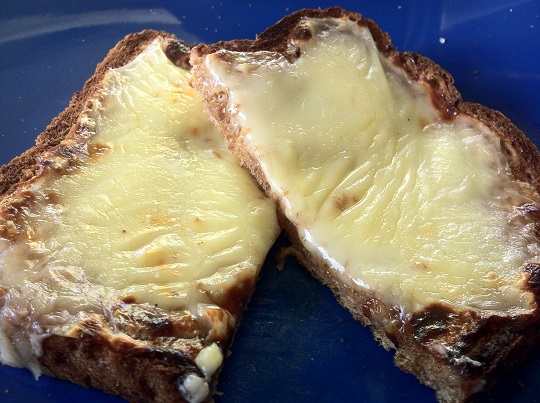 As well as a snack, being caught short one day I tried it out as cheese on toast. Now, it come out more gummy than cheddar does, but overall I didn't think it was a bad effort. If I did it again I'd just use a half pod, not a whole one. You can see for yourself in the photo above.
There are no artificial preservatives or flavours or colours in the cheese. But to be honest, just about every new product on the market says the same thing. This is still processed food, and as such I would be inclined to avoid giving my child one every day.
I think they're pretty good value. The pods themselves are both practical and fun. You get the taste of a creamier cheese, but in a firm form. And if you're stuck for lunch at home, grown ups can use Primula Pods for a snack too.
Overall verdict: 8 / 10