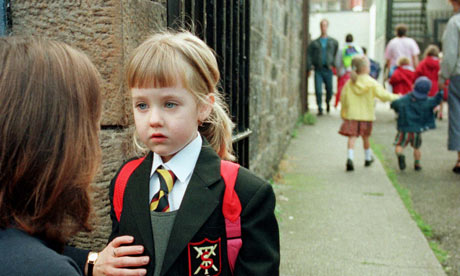 We've all heard about the new proposals to fine parents whose children are persistently late for school, but one school is taking time-keeping to a whole new level with the introduction of fines - of up to £10 - for parents who don't arrive on time to collect their children at the end of the day. The Daily Mail reports:
A primary school has launched a crackdown on parents who are late to collect their children. Henley Green Primary School in Coventry has threatened to fine parents £6.50 if they are not at the school gates on time. The fine is handed to parents who are more than 15 minutes late at the end of the school day, and to those who are more than 10 minutes for morning nursery sessions. And those collecting their two-year-olds from the school's 'Little Acorns' programme are charged £10 if they are 10 minutes late. 
Personally, I think this is much more reasonable than fining parents whose children repeatedly turn up late for school. Why? Because we're grown-ups; there's no excuse for us not getting to the school gates on time, and being late for pick-up hinders the lives and professional commitments of teaching staff. We've all known those heart-sink moments when you find yourself stuck in traffic behind a broken-down tractor, with only seconds to spare before the kids are due to be picked up, but there's a big difference in being late due to the occasional calamity like that, and regularly failing to be at the gates on time for school pick-up.
I think the embarrassment and hassle of small fine for being late to pick your kids up would probably help reduce the numbers of parents who treat the school staff like free babysitters.
But enough about what I think. We'd love to hear YOUR views on this.