Kickers School Shoes Review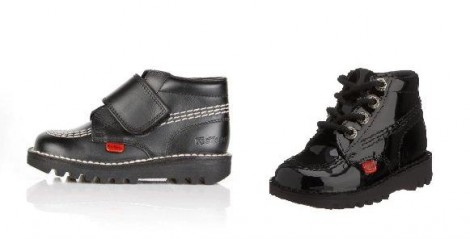 Shoes are one area where I am willing to spend a whole lot of cash when it comes to my kids. However, £40 or more had me blinking twice. I know that Kickers are great quality, and I know that they're also ultimately good value. My step daughter had a pair of Kickers school shoes that she loved and wore for three years in secondary school.
But these are shoes for much younger children. For preschoolers who are going to nursery or  reception, or those in the infants years (years one, two and three). At this age it is recommended that you get their feet measured every three months. They do grow quickly so is it worth it to spend £40 on shoes?
I received two pairs of shoes from Kicker's latest range of Back 2 School shoes. The Kick Kilo Strap infants boots and the Kick Hi I Core patent leather lace-up boots. These were road tested by Teenan (in Reception) and Maxim (in Year 1).


The first thing that struck both mums about the boots when they got them out of the boxes was how sturdy they were, and how thick the soles were. Melanie thought that these might make them particularly good winter boots if we got snow like we did last year! There's certainly a lot of grip on the soles.  Another plus for Teresa, whose son was trying on the Kick Kilo Strap boots, was the padding around the top of the shoe where the foot goes in. She felt that this made it kinder on the child's ankle, and supportive. Also easier for her son to pull on. Melanie was a little disappointed to find that the Kick Hi I Core boots didn't have quite the same amount of padding, and she felt that the boots were much stiffer than the other pair as well.
Patent Leather

The Kick Hi I Core boots we received were in black shiny patent leather. Something that Teenan adored right away. And I can't blame her as I remember how much I adored patent leather when I was that age. These particular boots are entirely black - black leather and black stitching. The model is also available in plain black leather with red stitching and in white leather.
I gave these shoes to Melanie to try out as they looked like the sort of thing a little girl would love (and she did) and also because her pre-school asks that children are sent to school in lace ups. My step-son's school, when he first started, was like that too. This is to help teach the children to tie their laces.
My son's school asks for velcro ties though, and asking around many parents, I've found that most schools prefer velcro and some even specify that children in nursery and reception are not sent in lace ups. So before you buy these shoes, do check!
Overall, Teenan liked these shoes. She's already started to learn to tie up her shoe laces, and loved that these were proper, grown up shoes. She liked the patent leather. However, she did find them rather stiff to walk in, but overall comfortable. They were a good fit on her feet.
Velcro

Maxim was aghast when he saw Teenan pull out the lace ups, and every happy when he saw the velcro strap on his shoes. Apparently having to stop playing football to tie up your shoelaces is incredibly boring.
Unlike Teenan, and perhaps this is a boy/girl difference, he wasn't so bothered with how the shoe looked but whether or not he could still kick his football accurately. Interestingly, it wasn't until I sat down to write this review that I found these shoes were meant to be black with pink stitching. The pink is so incredibly pale that it looks like a slight off-white. I asked Maxim's mum and she hadn't noticed it was pink either. We decided not to point this out to Maxim.
Plush interior
Maxim loved the comfort of these shoes. In fact, he particularly commented on it. Which is highly unusual in a nearly six year old who only ever talks about football and dinosaurs. The boots have an interior sole that is springy, and moulded to fit and support the foot. When asked, Maxim said he particularly liked this and would definitely like to wear boots like these to school. We will just have to make sure we don't mention the word pink!
And Finally

The boots are available on the Kickers website for £40. Standard delivery is £4.95, and delivery can take up to five working days. Personally, I'd recommend getting your child's foot measured first, even if you have done so recently. There's guides to doing this yourself but I always prefer it if someone independent does the measuring. Plus my son loves standing on the machine in Clarks, whereas he hates me touching his feet (very ticklish!).