Whirlee Ride-On From Mookie Review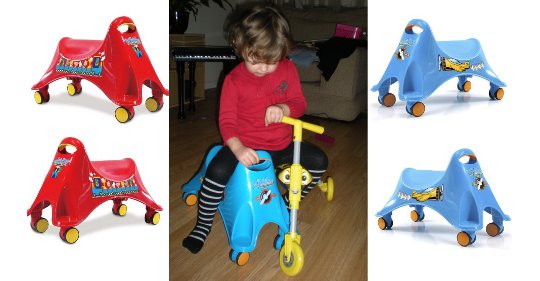 We were sent the Whirlee Ride-On toy from Mookie and the moment it came out the box, it disappeared into the playroom. My daughter loves it.
The latest ride-on from Mookie is superbly light weight.  The box it arrived in was large, and I was impressed when the postman was carrying in one hand, until I took it off him and almost fell off balance. It's very light.
The Whirlee requires no assembly, no instructions and no batteries. It comes with stickers already in place, and is literally an unpack and use job. Fabulous.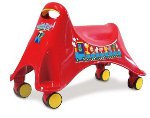 The blue Whirlee comes with airplane stickers on, the red one with a fun train motif and the pink one with girly hearts and roses and swirls.
It has 360 degree swivel wheels and seems to glide rather effortlessly over any indoor surface. We haven't used it outdoors as it's too cold to be on the grass right now, and I'm not a fan of things with wheels and no parent handles for road or sidewalk use – not for a two year old, anyway.  I think the fact that it's lightweight makes it easy to shuffle along as my toddler isn't having to fight the weight of the product beneath her.
It has a handle which makes it easy to lift and carry if you do end up having to carry it around,  and when your child is 'driving, that is also the bit that they use to hold on to and steer.
The Whirlee is also really durable. It's been tripped over, kicked and knocked about and doesn't look any worse for wear.  My daughter also has the Scuttlebug from Mookie, and it seems she can't decide which she prefers as she sometimes straddles both and rides them around the lounge simultaneously – usually ending in her falling off, but it can't hurt too much as she hops right on and does it again!
The Good

It's light, it's stackable, apparently, so if you have more than one it doesn't take up too much room, and you can turn it upside down and store keep other toys inside it if it's not in use. I imagine it would fit inside an suitcase filled with clothes, for example, if you were going on holiday and wanted a toy from home with you on your travels.
It's also not overly expensive. At under £20 it's on the lower end of the scale for ride-on toys, but then it's also among the simplest you'll find – which isn't always a bad thing.
I like that they've added a red Whirlee for those who don't want the gender-typical colours of pink and blue. It also means you're more likely to be able to share it from one child to the next – it certainly looks durable enough.  It's also very stable. The wheels are wider apart than the seat, so little ones aren't likely to tip over or fall off.  It's low enough that a 12 month old should be able to sit on it, but at two and a half it's still good for riding, and it should be suitable for another year or so, judging by the height of friends who've tried it.
The Bad
It's a chunk of plastic. I don't like that. It doesn't bother most people, but it bothers me.
Final Verdict
There's nothing wrong with the Whirlee, but it's not my favourite ride-on from Mookie. If you don't have the Scuttlebug, this is probably a winner for you. For me it takes a strong second place. While I think it's an okay product, my daughter loves it and is on it every day, and really she's more the target market than me.