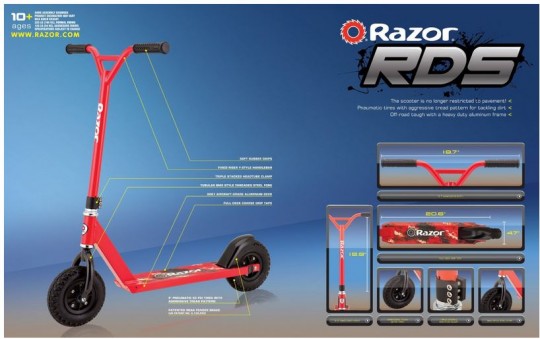 If your kids have scored a bit of cash from friends and relatives over Christmas, they might be looking at a scooter as a potential post-festive way to turn their cash into something more tangible.
But the extended family's generosity probably won't have gone as far as £150, which is what the Razor RDS goes for. In other words, this is not the kind of scooter you buy on a whim, it's a scooter for someone who takes the whole thing a bit more seriously.
And to be fair, you can see why it's at the top end of the scooting spectrum. While your standard two-wheeler is relatively lightweight and basic, the Razor RDS* is a serious piece of machinery.
For starters, it actually has full-blown tyres that have to be inflated to 60PSI before you go anywhere. There's a serious tread pattern on those tyres too, and that's because the RDS is specifically an off-road scooter that's just as happy tearing up a dirt track as it is rolling down the blacktop.The design is bold and chunky, with a bright red paint job brightly accentuating the heavy duty aluminium frame. Speaking of heavy duty, the rounded BMX-style curved tubing on the front fork – which is painted a businesslike black – plus the triple stacked headtube clamp (that's the clamp that attaches the handlebars in the frame, with "triple stacked" meaning it has three bolts) continuing the aggressive trend.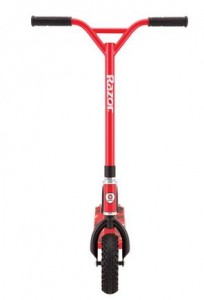 Tightening those three bolts is pretty much all of the assembly required, and you get an Allen key to help out. You'll have to sort out inflating the tyres yourself, but then you don't get a pump when you buy a bicycle so why would you here either?
The finished scooter features grippy handlebars that are nearly 20 inches wide, the attached handlebar extends up to 19 inches high, and the rear mudguard doubles as a brake if you stand on it.
As you've no doubt worked out by now, this is not a scooter for a young child, or a beginner.
It's rated for children 10 and older, with a recommended rider weight limit of 54kg when riding aggressively or 100kg for "normal" riding, an adjective you may end up disagreeing with should you take it as an invitation to give it a spin yourself.
For the target market, though, the Razor RDS should hit all the right buttons. It looks the business, and is agile, responsive and most importantly given how Razor is pushing its off-road capabilities, genuinely comfortable.
Whether it's jumping pavements, taking on the local skate park, or tackling off-road biking trails in the woods, the Razor RDS is just the right mix of solid and responsive to give you confidence to trust that everything will be OK when your small person is getting airborne at high speed to try out a new trick.
If you're not prepared to go there, then yes, the Razor RDS' price tag is a waste of money, simply because the ability to do so – and do so safely – is effectively what you're buying.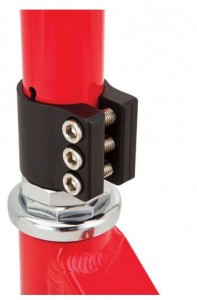 It was something of an eye-opener to me when I looked into the pro scooter market ahead of writing this review, first of all (if I'm honest) when I discovered that it's actually quite a major off-road/adventure industry, but also when I saw that actually the Razor RDS is at the bottom end of the spectrum when it comes to price.
It's very much a niche product that most parents will see as overkill, but if you are in the market for a more high-performance scooter that can go anywhere and looks pretty good while doing it, the Razor RDS gives you your money's worth.
The Good
The design looks great, sturdy and safe
It comes in a large box, mostly assembled, and just requiring a few tweaks
Despite being a heavy duty scooter it's very responsive, and not overly heavy
It can take a good range of weights, so should grow with your child for a long time
The Bad
It's a hefty price tag if you're not going to use it to it's potential. It's definitely not a school run aid
The Verdict
The Razor RDS is a great outdoors scooter. For a sporty enthusiast, it's going to be a super winner: they will love it and their friends will love it. It will push your child to new limits and is sure to make your heart race and your hair grey too.