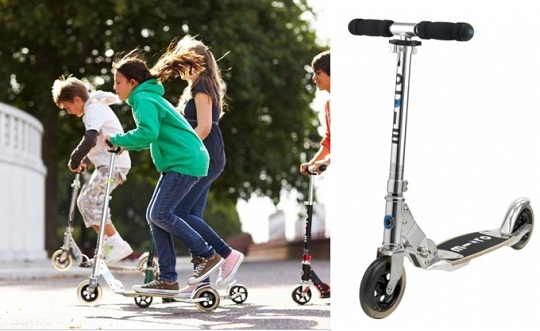 Scooters are a part of modern family life now. It is about time then that we reviewed one of them for you. This particular model is the Micro Scooter Flex (£99). Don't be put off by the price. I'll explain more about why we decided on this model to review, and how it is particularly good value, later.
I bet, if you're reading this and have children aged under 10, there's a scooter parked somewhere in your hallway/patio/garden shed. They make life so much easier. Children love to kick them along the pavement, and you love that they keep them moving and in a straight line towards where you're going.
There are added bonuses to having a scooter out and about with you as well. Shopping bags and other items can be hung off the handle bars when you're out. On longer trips, when children get tired you can pull them along on the scooter.
My stepson got one of the first Micro Scooters when they came out in the late 1990s. He was 12 at the time, and  it went everywhere with him. It then got pressed into service for my son, when he turned 4 and grew out of his pedal-less bike. I could have got one of the three wheeler types for him, but I figured he'd only grow out of that in a year so might as well go for the two wheel one straight off.
We've been using that for the last 18 months now, and it goes everywhere with us. Here's a handy tip if you're in London. The Natural History Museum classifies folded up scooters as pushchairs - which means they're free to leave in the cloakroom. Bonus! Worth checking the policy at your local museums.
Read on to find out more about what the Micro Scooter Flex is like to use in real life.

Micro Scooter Flex
This is not really my son's scooter. Oh no not at all. You can ask him if you like. He'll tell you that it is his dad's scooter!  I kid you not. To be fair. it is used 95% of the time by my six year old son. But it was his dad who spent forever in the scooter aisle at Halfords, looked up all the specs, and went for the test drives, to find the perfect next inline scooter addition to our family.
The Micro Scooter Flex can be used by anyone aged 5 years and upwards. This means mummy and daddy too. It has Micro's patented flex board, made of fibreglass and wood, for what the website calls the "an extraordinary driving experience."
The 145mm wheels are much larger than the ones on our original Micro scooter. Also, according to the website, its "innovative rebounding wheel, made with extra-fat PU shore coating, creates an extraordinarily smooth ride." No, I've no idea what it means either.
The absolute best thing about the Micro Scooter Flex, from my point of view, is that it has a stand. A little stand underneath the flexboard than you can flick down. Then when you park up at the park, or MacDonalds, or wherever, you can just stand the scooter where it is.
The handlebars are adjustable. They slide right down, or you can pull them up to the fullest extension and lock into place with the brass screw. If you need the handlebars in a position in between you need to use the clamp.
In the photo above, the handlebars are all the way down. Just under the handlebars are the black clips (for storing the handles when it is folded). And under that you'll see the silver clamp. I'm going to point all this out to you because I've discovered that most Micro Scooter users don't realise this can be adjusted.
On the original, there was no securing screw. You only had the clamp, so we had to use it. But, it gets loose. You need to tighten it using an Allen or hexagonal key on the large protruding screw to the side of the clamp. Then open the clamp up, and twist it in order to loosen the grip enough to slide the handlebars up and down. Twist back to secure the handle bars in place.
Our Micro Scooter Flex came with the clamp loose, so it wasn't usuable until we'd tightened it. This is not something I'm strong enough to do on my own, so the first few times my son and I went out on it, we could only put the handlebars into two positions. All the way down (too low for my son) or all the way up (too high even for me - I am short at five foot two though).
The ride
My biggest problem with the original Micro Scooter was the tiny wheels, They just were a bit too scary unless you were going over completely smooth ground. On bumpy, uneven ground - and the pavements around here aren't the best - they caught easily between paving slabs. Plus they were hard. When the ride got bumpy, the shock seemed to magnify through the frame.
I know all this because I would ride the scooter on the way to school to pick up my son. Well, if you're going to pull it along might as well get on! It took a while to stop feeling like a middle aged lady on a scooter. Now I don't care. It is fun and fast! Plus I'm not the only mum zooming down the hill to the school these days.
The bigger wheels do really make a big difference. They bump over everything and the ride is SO much smoother.
There are some other nice innovations too. Folding the scooter down is so easy - with one hand you just push in the blue screw on the side (you can see it on the photo above). The handles pop out and clip into the clips on the sides of the central bar.
Once folded down though, it isn't as compact as the original. The handle doesn't fold down as flat, and the only way to hook it over your arm for carrying is to use the bottom end. And I found this meant one of the wheels kept bumping against me. Not good if they're muddy.
Our Micro Scooter Flex came with a Micro carry strap. I haven't been able to work out how to use that properly yet though. The way it was clipped on, I couldn't put it over my shoulder and using it diagonally across my chest wasn't a comfortable option for a, shall we just say larger breasted mum? My son is still to young to carry the scooter this way, but it could be handy for dad's and older kids.
The Good: this really is an excellent, fast, ride. Grown ups will get as much use out of it as the kids. I have been stopped many times and asked where we got the scooter from.
The Bad: it doesn't fold down in as compact a form as other models.
Overall Verdict: 8/10. I knocked a couple of points off because it isn't as compact as it should be, and because it is pricey. But these things last forever - they're modular and you can replace any part including the foam handles.