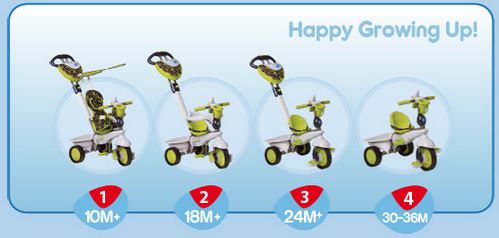 About 2 years ago now, I reviewed the Smart Trike Recliner, which we loved and literally drove into it's grave. We've not used a pushchair or pram for either child, preferring slings and baby carriers, and our loved and trusty Smart Trike. We recently upgraded to the new 4 in 1 Dream Touch Smart Trike in purple (available for around £100), which if possible we may actually love even more!
The Dream Touch trike is the first trike to have fancy schmancy technology that allows you to steer it literally using one finger. That's great for demonstrations, but in practice, you're unlikely to need to do that. It's a perfect one hand steer though and with the toddler steering off (by pulling the clutch on the wheel out) it's the easiest pushalong ever. My toddler is almost 20kg and it's a nice workout, but my 13 kg little one is so light it feels like pushing nothing much at all.
The Dream touch trike has four stages, starting at 10 months with a padded backrest and straps, along with a surrounding bar and foot pedals for little ones. In the second stage you can keep or remove all those with the exception of the safety bars, and use the pedals instead, although we find the footrest good anyway, when my three year old is tired or sleeping. A huge improvement here is the ability to fold the pedals in so they don't bang against little feet.
In the third stage you can remove the bars as you still have the straps, and in the fourth stage, you can also remove the parent handle, making the trike entirely toddler steered and powered.
Another huge improvement with this trike is that the basket at the back is attached much better. With the Recliner we actually removed the bucket because it fell off at the most inopportune times. This one is attached much better, and is actually useful for lunch bags and so on.
The only thing the Dream Touch Smart Trike doesn't seem to have, which is most annoying to me, is the bottle holder. I used to use that on the Recliner for my morning coffee, and may see if the old one fits on this Trike if I can still find it!
Overall, we love this new Dream Touch Smart Trike. It gives me a good 20 minutes of rushed walking to  nursery twice a week, since we're always late no matter how early we set off! It also gives us a nice leasurely stroll home after, with the baby in the seat rather than the toddler. A good excuse for some exercise, either way.
If I were setting out to buy a new Trike again, at this stage in our family, I would definitely buy this one again. If we were planning more children, or had a newborn to consider, I'd go for the Recliner, which is suitable from birth. But for our family, now, we highly recommend the Dream Touch trike, especially since we think it has much nicer colours and patterns to choose from.