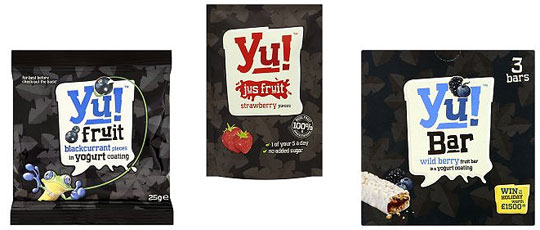 If you absolutely CANNOT persuade, convince, cajol, bribe, demand or blackmail your child into eating anything that resembles a piece of fruit, then these new Yu! products may just come to your rescue in a small token gesture way.
Yu! is described as being
A Brand New Delicious And Healthy Snack Range For Yu!
I'm rather cynical when it comes to fruity snacks that are as far away from their natural fruit form origin as possible and still purport to be 'healthy' - far too often these 'healthy snacks' and/or 'healthy options' are absolutely jam-packed with sugar and have no business standing under the healthy banner.
So what about the Yu! products I was sent?  Are they really a healthy snack option, do they taste good and are they going to break the bank?  Here's what I think...
Firstly, the packaging is rather 'clever' in as far as it's been designed in such a way that it will be acceptable to very young children, older children and teenagers, right the way through to the adult end of the age spectrum.
It's predominantly black and features a very cute little tree frog whose sticky pads on his feet are the same colour as the fruit content of any particular packet - the frog on the front of blueberry flavoured Yu! snacks has blueberry coloured feet; pink for strawberry and cherry red for cherry items.
The frog is cute without being childish, so if you're an office worker he's not going to look out of place on your desk and your colleagues won't assume you've been raiding your child's lunchbox stash!
The manufacturers of Yu! snacks claim they are, and I quote, 'the most convenient, nutrition choice for everyone everywhere.'  I really beg to differ: fruit in its natural form, looking the same way it did when it was growing on its tree or plant is, in my opinion, the most convenient, nutrition choice.
The fruit ingredients on the back are predominantly apple juice concentrate and puree followed by various other fruit concentrates and purees in decreasing amounts.  Fruit juice (aka, sugar in liquid form) and puree (read, sugar in a slightly less liquid form) is absolutely not better for you than eating an apple that is still solid and still has its skin on.
Many of the fibre and additional 'whole food' benefits that come from eating fruits in their fruity form are lost when you start stripping away the good bits, leaving only the juice.
I cannot disagree, however, with the Yu! statement declaring the products are completely free from 'added nasties'.
Yu! Jus Fruit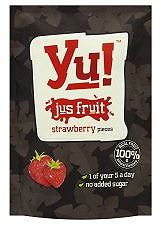 I received two bags of Yu! Jus Fruit - two little bags containing 24g of 'bite-sized pieces of real fruit', that each contain less than 90 calories and, apparently, count as one of our five-a-day.
I've not seen dried fruit look like little round jelly counters before; the Yu! Jus Fruit pieces of dried fruit bore absolutely no resemblance to fruit whatsoever - this will work well for you if you have children who are fully paid up member of the anti-fruit brigade because eating them is just like eating jelly sweets.
Not only that, the taste difference between the Yu! Jus Fruit blueberry pieces and the cherry equivalent was indiscernible; I tried the Yu! products with my mum, my daughter and my youngest son - closing our eyes, in our own little blind taste test, and trying some of each just had us stabbing in the dark as to which flavour was which.
There are 88 calories in a single bag of Yu! Jus Fruit (I haven't missed the 't' off the end of Jus, by the way) breaking down into:
0.2g of protein
20.2g of carbohydrates (which is all going to be sugar); and
0.1g of fat
Where is the fibre?! I'm hazarding a guess that there can't possibly be any, or if there is the amount is so minimal it doesn't need to be (or warrant) being declared on the nutrition information.
Each little 24g bag (and they are little) costs 67 pence each and is available in strawberry, cherry, blackcurrant, blueberry or mango flavours.
Neither my mum, my daughter (17), myself or my youngest son (6) were overly keen on the Yu! Jus Fruit pieces - if you like fruit they're really not going to do it for you in the same way a wonderfully crisp apple is going to.
We all really feel unable to give the Yu! Jus Fruit pieces an overall score of more than 6 out of 10.
Yu! Yoghurt-Coated Fruit Pieces & Yu! Bar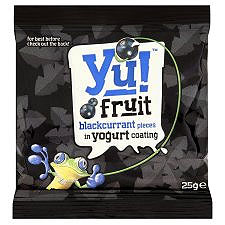 Both of these products come coated in a yoghurt coating - in my personal opinion only, that's the best way to ruin something that would taste, and be nutritionally, better without it.
The Yu! yoghurt-coated fruit pieces bags cost 45 pence each (you can buy five bags for £2, which will save you the grand sum of 25 pence) contain fruit pieces (although not in any form you'd recognise as fruit) that have been covered in a yoghurt coating.
When we opened the packet, all of us thought the pieces looked like teeth - this was rather off-putting for a few seconds.
My mum and myself didn't like them, but then we don't like things coated in yoghurt anyway, they Yu! Fruit pieces coated in yoghurt were just too sweet and sickly, even in very small quantities.
Elise, my daughter, thought they were okay.  She says, "The balance between fruit and yoghurt is good, not too much yoghurt and not too little either.  I'd happily eat a whole bag."
Edward, my youngest son, wasn't fussed either way, his comments were, "Yeah...they're okay," but he went on to say that he probably wouldn't bother eating them if they were in his lunchbox.
Our overall combined score for the Yu! Fruit yoghurt pieces is 8 out of 10
The Yu! Bars contain 40% fruit that's combined with cereal and coated with the same yoghurt coating as the pieces; three 30g bars cost £1.79.
They are very small and, to be brutally honest, taste the same as any other generic fruity cereal bar coated in yoghurt; if you like bars that are more chewy than crunchy then I think you'll like the Yu! Bars.
Whilst I may not be a fan of cereal bars, they are most definitely a better option than a huge chocolate bar that's full of fat - the Yu! Bars have 133 calories compared to an average 250 calories for a standard something chocolately.
Our overall score for the Yu! Bars is 8 out of 10.
And finally...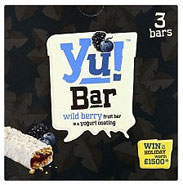 I'm really struggling to sum up the Yu! products for you.
The amounts you get are very small for their calorie content (if that's of importance to you), you would feel far more satisfied, and gain far more nutritional benefit, from eating an apple which would also cost you less.
If people exercise some common sense and don't think they can simply eat five bags of Yu! Jus Fruit and have 'done' their five-a-day, then I'll get off my soapbox and be quiet - as an occasional snack, okay, but as a total replacement for fruit, I struggle.
That said, if a Yu! snack is absolutely the only way you're going to get anything resembling fruit into your child, go for it as it's going to be marginally better than nothing at all - but never give up the 'fight' to one day see them bite into something that still looks the way it did when it grew on the tree.
My other issue with products of this nature - all of them, I'm not picking on Yu! - is the price, I think they are always overpriced for what you get and that there are far less expensive ways to have healthy snacks.
Are the Yu! snacks better than a bag of crisps or a chocolate bar?  Yes, absolutely, and don't cost any more than those things but cost more than a banana, apple or orange.
Are the Yu! snacks superior and the most convenient, nutritional choice for everybody, everywhere?  No!  It's no more of a hardship to throw a piece of fruit into a lunchbox, or bag, than something Yu!
If you want to try the Yu! products for yourself then you'll find them in the home baking sections of Tesco or Sainsbury's - Tesco currently have some 3 for £1 or £1.50 deals on various of the Yu! snacks at the moment too.