There are lots of thing we love here at PlayPennies like cake, chocolate and more cake.
But apart from that, we absolutely adore toys that are well-made, are fun to play with and 'do' some good at the same time.
So when we were approached by Traidcraft and asked if we'd like to review some of their toys, we answered with a unanimous 'yes!'
Traidcraft was established in 1979 and is the country's leading fair trade organisation.
Their mission is to fight poverty through trade, practising and promoting approaches to trade that help poor people in developing countries.  This can only be a GOOD thing and, as far as I'm concerned, should be supported wherever possible.
One of the things that we REALLY appreciated about the Traidcraft website is that you can see where each item comes from, the Fair Trade producer and what their objectives are.
We were sent three Fair Trade toys through Traidcraft which we passed on to PlayPennies mum Lorna to play with on our behalf.
Bird Water Whistles
Selling price: £6
Country of Origin: Peru
Fair Trade Producer: Minka
About Minka (quoted from the Traidcraft website): Minka is a non-profit organisation working with native communities in the poorest regions of Peru. A major objective is to ensure that a fair price is paid for traditional, hand-knitted garments; and to empower them through working together; especially women.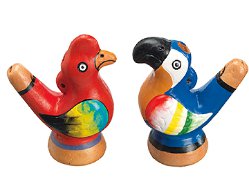 Lorna feels that these Bird Water Whistles would be quite fun for children, although she does attach a caveat to that.
"I wouldn't want to give the Bird Water Whistles to anyone under the age of 10," she says. "They're made of terracotta, so not really suitable to the sort of treatment given to toys."
One of the birds looks like a parrot, and the other is a rooster.
My mum sent one of these water whistles over from Italy for my youngest last year - you put water in them and blow.
The force of your breathe determines the speed of of the bird trill that sings out as a result!  Our one was quite realistic and it caused a lot of quizzical head-tilting from the dog.
Lorna concludes, "The noise isn't unpleasant at all, but it would get a bit wearying on the ears after a while." She's right, it didn't take long for the Italian bird whistle to go and live at my son's dad's house.
Monkey and Giraffe Yo-Yos
Selling price: £6
Country of Origin: Indonesia
Fair Trade Producer: Perketi
About Perketi (quoted from the Traidcraft website): Pekerti is a social development agency formed in Jakarta in 1975. Its aim is to enable subsistence farmers and rural people to supplement their income through the development and sale of traditional crafts.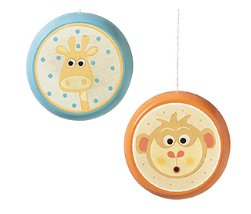 These two yo-yos are made from acacia wood and hand painted with monkey and giraffe designs; the monkey yo-yo is pastel pink and the giraffe yo-yo is pastel blue.
Lorna says she would have preferred to see them a little less gender specific.
"I assume that they're meant for a boy and girl," she comments, "but giving a boy a 'pink' toy is pretty much not the done thing once they get past a certain age! Another thing about these yo yos is the designs - they're actually quite babyish."
Lorna feels this is a bit odd as the yo-yos aren't something you'd give to, or are suitable for, children under three years old.
"And once they get a bit older," she continues, "they do get sensitive to these sorts of things."
As a yo-yo Lorna tells us they work well.
I'm always glad to hear that  because a good yo-yo really does make all the difference, and playing with a rubbish one just leads to frustration and another toy that ends up gathering dust in the corner.
"There's a really nice balance to them," Lorna explains, "and they are quite big for a yo yo, which means the weight makes it easier to spin them up and down for little ones."
Apparently you won't be able to do any stunts with them - hey, I'm just happy if I can get it to bounce up and down the string! - but as a starter yo-yo, just to get the hang of things, Lorna says they're ideal.
Four Animal Jigsaws
Selling price: £14
Country of Origin: Sri Lanka
Fair Trade Producer: Gospel House
About Gospel House (quoted from the Traidcraft website): Gospel House in Madampe, Southern Sri Lanka, seeks to provide employment opportunities for disadvantaged young people, often with no educational qualifications. Skills training for continuing development enables many to move on to other jobs.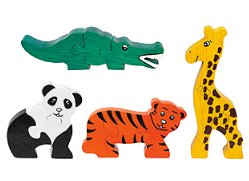 Of the three items we sent to Lorna, the four animal jigsaws were the ones she was most impressed with.
"I love them!" she exclaims.
"They are not only beautiful to look at, but they work really well as a toy."
Like other sorts of jigsaw toys aimed at babies and toddlers, Lorna tells us they're very simple with just two joins and three pieces at the most.
"The joins are very well designed," she continues, "very easy for little hands to fit together, and once they ARE together they stay in place really well."
Lorna has a pet hate with this sort of toy for babies and little children - once the child puts the pieces together, playing with the completed item isn't really possible. Usually the pieces just then fall right apart.
"I am so impressed with these animal jigsaws," she gushes, "once the pieces of the giraffe jigsaw had been fitted together my friend's 18-month-old was able to play with it  - that giraffe was galloping all over the room - without it falling apart."
Lorna also told us that her six-year-old son fell in love with them too, "This was most suprising," she concludes, "as I thought he might feel they were a bit babyish but, apparently, they're not at all."
And finally...
"Overall, I would consider the animal jigsaws an excellent investment in a toy," Lorna reveals, "I can see myself buying these in the future as gifts. They look beautiful, and I love that they're wooden too. But also, they're excellent to play with."
Lorna felt that the Bird Water Whistles were a little too much like a tourist souvenir and, of all the things we sent, were her least favourite.
"The Yo Yos would make great gifts, or stocking fillers, too," she says.
Again, Lorna liked the natural materials used and how well they yo-yo'd up and down.  At £3 each,  she feels they're good value for money too.
If you're looking for a toy that has a Fair Trade, and ethical, background that will bring joy to the receiver and hope and prospects for the producer then Traidcraft is the place to go.