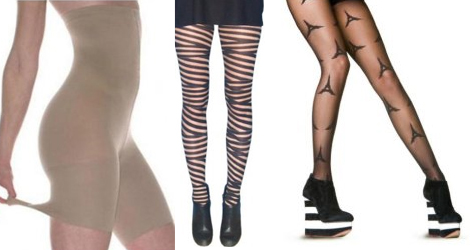 Tights!
That single word will conjure up a different instant mental image for everyone.
Thick, black winter wooly ones; the ones you wore as a kid to school in either compulsory navy blue or grey or the ones that were either too big or too small and you were forever hoisting the crutch upwards, away from your knees!
Tights Please have everything a tights-loving officiando could EVER wish for; if you like to wrap your legs in hoisery then you're going to be like a little kiddy in a sweetshop when you go over to their website.
Along with every variety of tights you've ever heard of (and probably some you haven't) they also do stockings, leggings, leg warmers, socks, shapewear and tights for men. Yup, you read that right...tights for men!
I kid you not - here's a little something for you to get your head around before I tell you about the tights, from Tights Please, that we sent to PlayPennies mums, Becky and Tanya.
Tights Please recently conducted a 'Men in Tights' survey; 34% of men responded to say they wore them under a suit to the office.
"Many men wear tights in secret - partners are seldom aware; I managed to hide it for 15 years," one respondent revealed.
WELL, we've yet to convince any of our PlayPennies dads to test out some tights, so here's what Becky and Tanya had to say about their tights from Tights Please.
Becky
We sent Becky two pairs of tights from Tights Please: Pamela Mann 'Strap Around Tights' (£13.99) and Henry Holland 'Paris Citights' (£11.95)
"The Pamela Mann 'Straparound' tights really are very striking," Becky says, " they have the appearance of stripey bandages bound round the leg, whilst actually being a normal pair of tights.
I love them, even though my legs resembled a mummified zebra's. It's a surprisingly flattering look!"
Becky told us she found herself 'casually' trying to draw attention to them, although we think the tights might have been doing that on their own and extra help from Becky wasn't really necessary!
"The generous length makes them very comfortable and they didn't need repositioning at any point despite wearing them all day and evening," Becky continues, "They are also extremely robust. I din't feel like I had to pussyfoot around them to get them on.  Overall they really are a fantastic pair of tights - if you like the look..."
Becky was less than impressed with the Henry Holland 'Paris Citights' though.
"I really wasn't quite so keen on these tights although, again, they are very striking," Becky tells us.
"The Eiffel Towers feel interestingly velvety but it's tricky to keep them stretched out in the right proportions. Several times during the day I noticed they'd sunk down to form squat equilateral triangles so I'd yank them back up again,"
I have to confess this made me laugh, I had visions of Becky's amazing 'appearing Eiffel Towers' being an emergency little trick at dinner parties on occasions when the conversation was a bit lacking..."have I shown you my Eiffel Tower tights?" "No, they look like squat equilateral triangles..." "AH-HAA!!!  Watch THIS!" But I digress...
These are a finer denier than the Pamela Mann 'Straparounds' and Becky told us they felt relatively delicate, so needed to be treated a little more gently.
"Having said that, they didn't ladder at all during the day or evening wearing them," Becky concludes.
Tanya
We sent Tanya a pair of Spanx Higher Power (£29.99)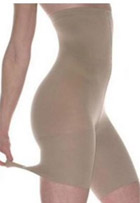 Spanx have been around FOREVER and they're tried, trusted and celebrated my many.
"My first thought, when I saw these, was how do you wee?" Tanya confesses.
If you've ever poured yourself into a pair of Spanx then you know hauling them up and down, during the course of the day, isn't something you want to be doing.  But fear not, the clever people at Spanx thought of that so they incorporated an open gusset meaning you don't have to (if you get my drift).
These Higher Power Spanx go from the mid-thigh to under the boobs and smooths your butt, stomach and your thighs in an instant; awesome.  The design says that it leaves no bulges or marks on the thighs, that the special fabric stays up at the top thanks to a special knitting technique and that it cuts out the much-dreaded visible panty line.
Tanya wore her Spanx on a very 'glamourous' trip to Tesco as she wanted to road test them in an every day situation, rather than sitting at a table in a restaurant having been whisked out to dinner.
"The Spanx were much easier to get into than I thought they'd be," Tanya tells us, "you just put them on like a pair of snug fitting tights, and they really DO hold everything in without pinching or digging in"
Tanya told us that her clothes felt much loser and is pretty confident in saying that the Spanx probably pulled her into the next dress size down.
"They come in two colours, black and fleshtone," Tanya reports, "and you have to give your height and weight when you order them to make sure you're sent the correct size for you. I'm also very happy to report that the Higher Power Spanx stayed up for the duration of my marathon supermarket trip, I'd definitely recommend them."
And finally...
If tights do it for you then Tights Please really is a one stop shop to indulge your tights desire.
If you order before 3.30pm your items will be shipped the same day and will take between 2 to 4 working days to arrive for just a £1.95 flat rate delivery charge, regardless of how much you buy; shipping overseas will cost £8.
There's also a next day delivery service which will add £8 to your bill; you must call them before 2.30pm to take advantage of this.
Both Becky and Tanya were pleased with the service they received from Tights Please, and felt the prices of each item offered good value for money based on the quality.