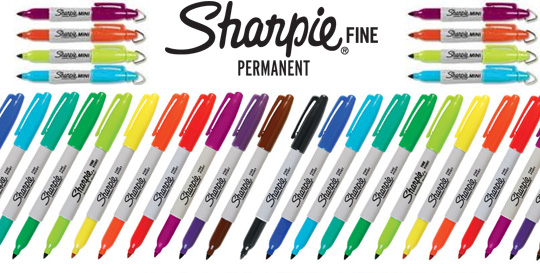 I've been having a love affair with pens from the moment I could pick them up and, I thought, I was a bit of pen connoisseur up until now.
Three packs of Sharpie pens landed on my doormat and when I showed to them to my 15-year-old, also pen-loving, daughter she said, "OOOH!!  Sharpie Pens!!  I. LOVE. THOSE!" That evening I went to watch my youngest son swim and I mentioned to his dad that I'd received some Sharpie Pens to review.  Now, he's not known for getting excited about pens but his reaction wasn't too dissimilar to that of my daughter.
I began to think I'd been missing out!
All of the Sharpie pens, sent to me, were permanent markers in a fabulous array of colours and, I must confess, my first thought was, "How many colours do you need for writing on burned CDs and DVDs?!"
However, after switching my brain on and doing a bit of investigating there are lots of instances when a permanent marker could be just what you were looking for.
Sharpie Permanent Markers - pack of 12 assorted colours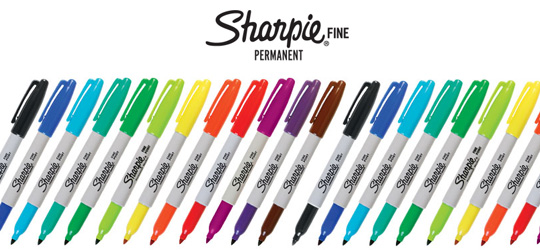 When it comes to pens, more is more and the 12-pack of Sharpie permanent marker pens (£9.99) looked so lovely all lined up in spectrum order in their packaging that I had to try them out first.
Still not quite being able to think beyond writing on CDs, this is what I did first.  They all wrote on the CD perfectly - yes, I tried all of them - but failed somewhat in the smudge test.
After writing, and drawing hearts, on the CD I ran my finger across it and everything smudged. I wrote on glossy wrapping paper and plastic postage bags, wiped my finger across the writing and it smudged. I found an old, chipped coffee mug in the back of the kitchen cupboard - drew on that and smudged it.
On the back of the packaging, all the Sharpie pens, are billed as being quick-drying.  How fast is quick-drying supposed to be?
Am I being unrealistic in expecting it to be dry the moment I've laid ink to disc? I don't think so! I have such a marker and it saves me from the torment that is smudged writing on things.
I drew and wrote on the aforementioned things again and timed my 'finger-wiping'.  After five seconds the ink still smudged, after 10 it was sticky, after 15 just a little tacky and was completely dry in 20 seconds.
I guess the definition of 'quick-drying' all depends on your point of view.  Compared to oil paint the Sharpie permanent marker pen ink is SUPER quick drying, but if you don't want there to be any margin for smudging errors then you're going to have to be careful, on shiny surfaces at least.
You can also use Sharpie marker pens on fabric; plain, cheapo white canvas plimsoles can be transformed into unique creations that would have Christian Louboutin and Manolo Blahnik rushing out to buy a set of Sharpie pens!
Okay, maybe not, but it's a nice idea and would kill some time during school holidays, or be ideal if you needed something for fancy-dress.
Sharpie Mini Permanent Markers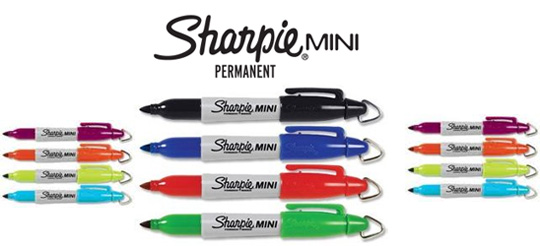 These little Sharpie Mini Permanent Markers came in a pack of four and, measuring just over nine cms in length, are two-thirds the length of the standard Sharpie marker pens.
They also have a little metal ring through the top of the lid which allows you to hook them onto key rings, a lanyard, or anything else you might want to hang a little permanent marker to so you always to hand.
My daughter thought this was a great idea and insisted I attach one to my set of car keys.  I have lots of bits and bobs attached to my car keys so a little Sharpie marker pen wasn't going to make any difference, but I am stuggling to recall a time when I was out and found myself in dire need of a permanent marker pen.
I'm not sure how useful these are for general day-to-day-being-out-and-about to be honest; I'm really trying hard to positive and think of instances where you'd need to have such a pen with you at all times, and be able to attached to a lanyard and hang it around your neck or on a clipboard, or something, but I can't.
If you can, then perhaps you've just found the perfect little pen and solution you've been looking for.
Either way, gimmick or fiendishly useful, these little Sharpie mini permanent markers aren't going to break the bank with a retail price of £3.98.
I ran the same smudge tests with these as I did with the standard Sharpie markers and the results were the same; smudgy straight after, but completely dry after 20 seconds.
Sharpie Metallic Permanent Marker

This one had my daughter almost weeping with joy! I remember when gold and silver marker pens were all the rage; I had them and can still remember that paint smell they used to give off and probably shouldn't have been used in confined spaces.
I also remember having to shake them and hearing the little rollerball inside mixing the 'paint', so my first instinct was to shake the Sharpie Metallic marker (£1.66) - I was rather surprised when there was no rattle.
You can use metallic markers for all sorts of things but we tried the Sharpie metallic marker on was Christmas baubles; that time of year is rapidly approaching and it could be quite fun to buy some cheap, bargain basement baubles, give the kids a couple of Sharpie metallic markers and have them put their own stamp on the Christmas tree decorations.
I must confess I didn't hold out much hope for the Sharpie metallic marker in my smudge test, but was proved wrong when I discovered this one does dry almost instantly - it's a tiny bit smudgy on the end where you lift the pen from whatever you've drawn/written on but nothing like the other Sharpie markers.
And finally...
Much as it pained me, I couldn't let this review pass without conducting another test on all the Sharpie permanent markers - the 'stab the nib on the desk/paper/whatever test'.
I took each Sharpie marker pen and stabbed it, HARD, 10 times onto a blank CD and I have to say they faired incredibly well.   Only the nib of the metallic marker started to push back into the pen casing, but all of them really stood up to my abuse.  There was no splitting, no fraying (you remember how felt-tip pens used to) and just produced a slightly thicker line than before.
SO, marks out of 10 and plusses and minuses...
Sharpie Permanent Marker Pens (both standard size and mini): 8 out of 10 - they lost a couple of marks for me because of the instant smudging potential
Sharpie Metallic Marker: 9/10 - only one mark lost here as there was less smudge risk, but the nib did start to push back into the pen; if I'd kept on banging it, it would have eventually disappeared completely
Pluses 
Mark permanently
Write on almost anything
Ink doesn't rub, or wash, off  once it's dry
Great price for good quality pens
Wide colour choices
Minuses
The non-metallic pens will smudge unless you let the ink dry for at least 10 seconds
You can buy Sharpie permanent markers in most shops that sell stationery related items and in various places online, such as Viking Direct, Amazon and Cult Pens.
Happy Permanent Marking!