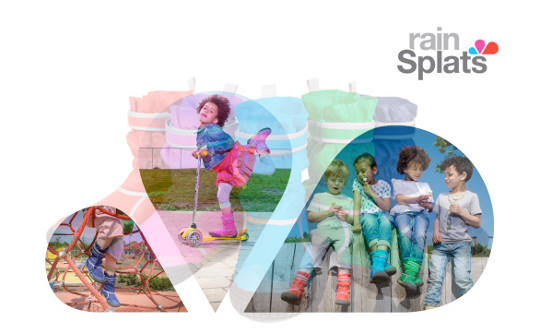 In the absence of eternal sunshine here in the UK, I've had to put my Southern Hemisphere habits behind me and adapt to things as they are. It's taken me almost nine years to get to this point – understand, I wear open toed shoes till the snow is forecast, then I switch to boots until the snow melts, and I'm back in my flipflops. Unfortunately I can't expect the same from my three year old.
We spend a lot of time – at least two sessions a week – in the forests that surround our home. Ameli loves her Wellies and we've loved them too, because they're easy-on-shoes. The problem with  Wellies is that they're not overly flexible, and she can't spend the whole day in them, should she have to, so I don't think they're very comfortable, and because they're such hard shoes, they're probably not ideal for growing feet either.
We received a pair of RainSplats to review and they are awesome.
Rain Splats were designed and created by two North London mums during a particularly wet summer, when they were looking for an "urban adventure" rain shoe alternative.  We ordered a pair  of Retro Red Splats to match our existing wet weather gear, and they are fab.
The cover of the shoes is a water repellent mesh, made from a porous material that has holes 20,000 times smaller than water droplet, apparently that's small enough to still be breathable though, because while my daughter's socks haven't turned up wet, her feet have also not been as smelly as they can be after a morning in Wellies. The Splats have been tested to a military standard of waterproofing, and they are really very good!
The 'piping' and 'accents' on the shoes are reflective to 2m – an odd amount as that doesn't really seem useful if you're i.e. cycling in them, but useful if you're using a torch to try to find them under the bed ;)
One of my favourite features of these Rain Splats is the Velcro strap near the top. It makes the boot size adjustable, which is so useful in the prevention of water down the shoes. Seriously, for a puddle lover, that's an awesome feature.
The heels of the shoe are slip resistant – which doesn't hold up against muddy inclines, mind, but still, slip resistant on wet floors and so on. The sole is an environmentally friendly, non-toxic recyclable material. It has a reinforced heel and toe to make those high-impact areas a little more durable too.
Sizing is the only problem I've had with. Let's put it this way – I thought I'd be really smart and buy a size or two up, and we could pad Splats them out with fluffy socks for a while, right. Erm. No. When they say they're generous, they mean they are generous! We've tried them for waterproofing and so on, but at the moment they look like she's wearing boats on her feet. Even so, she's not complained about them and had a fab morning out in the forest.
The Splats arrive with a waterproof coating, but they recommend that you reapply some from time to time. Splats can be cleaned with a damp cloth, but can't be washed in a machine.
For quality, durability and usefulness, they're perfect, and worth every single penny of their £38.
The Good
Splats are available in brilliant, bright colours                
They're really useful
They are waterproof
They have a Velcro strap that keeps the wet out and makes the boot shin hugging
They're made from good materials and are partially recyclable
The Bad
I can't think of a single bad thing. Splats cost more than you pay for wellies in your local supermarket, but they're so much better.
Oh, you must use the size guide on the website, otherwise you'll be buying for next year!
The Verdict
The Splats are fantastic. I'd say they'd make a brilliant Christmas present, but actually, that wastes good two months where they could be well used! On the other hand they'd make a killer Christmas present and if the year ahead is like the last one, you'll be able to use RainSplats well into next August.