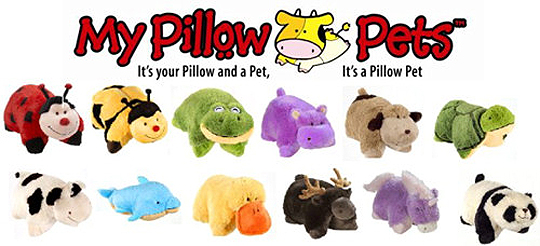 I wrote a Pillow Pets deal way back in September 2011 (well, it feels way back to me) and it wasn't until I actually saw one 'in the real', being ADORED by my niece, that I really appreciated just how marvellous they really are.
Here's the story of 'Lily' the Ladybird Pillow Pet...
My youngest son really isn't into cuddly ladybirds - other cuddly things yes, girly ladybirds - NO! - my 16-year-old daughter isn't really the target market and my 17-year-old soldier son even less so.
By sheer alignment of the planets and the Universe (and perhaps a touch of magic from Russell Grant, who knows!) my little niece came to stay for a few days, with her mum, and celebrated her 5th birthday whilst she was here - I gave her the Ladybird Pillow Pet as a pressie.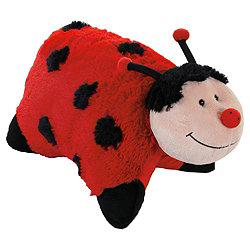 There are lots of different pillow pets available - as you can see from the picture, and that's not all of them either - you really can't tell from them just how HUGE these Pillow Pets are; they are enormous, especially when being cuddled by a five-year-old girly; they measure a whopping 46cm x 20cm x 20cm.
My niece instantly fell in love with the Ladybird Pillow Pet, named her 'Lily', and refused to be parted with her for the entire duration of her stay.  I've been reliably informed this is still the case, although she has been persuaded that she doesn't need to take Lucy Ladybird to school with her.
So what is she (funny, in the deal I wrote last year I referred to the ladybird Pillow Pet as a 'he' - now I can't see 'him' as anything but a she!)?
Well she's a pillow that can be folded up as a pillow, which stands up, or opened out flat to become a large cushion to sit on, OR wrapped around your body to cuddle like a half blanket.
There are two velcro straps that do up underneath the Pillow Pet to hold it together as a cushion and the spiky velcro side has a fleece tab which covers it so it doesn't scratch - everyone agreed this was a nice, simple little touch that made a big difference.
Folded as a pillow, Lily has been taken on some long car journeys and did a marvellous job of being something comfy for Lori to rest her head on; for 400 mile trips home you need  a pillow to lay your head against!  She also makes for something big to wrap your arms around when you want to cuddle something of substance.
Lily Ladybird Pillow Pet is made from the most wonderfully soft chenille fabric - I have a real thing for chenille, you can't beat it for that super soft, comforting feel - and her longer fluffy bits aren't so long as to come loose, cause irritation or be annoying.
Even at just five years old, Lori is very neat and tidy (not quite sure how her mum's managed that, I keep telling her it'll wear off *grin*) and likes things to be just so.  Completely of her own free will she folded up her pyjamas, laid them on the underside of Lily Ladybird Pillow Pet and then did her up - VIOLA, one portable pyjama case/pillow and cushion.
I know the Pillow Pets just look like character cushions that can be folded in half and don't 'do' anything - but you can't grasp the extent of their charm and how endearing they are until you see and cuddle one for yourself!
My mum is completely besotted with Lily Ladybird too; she can be a bit skeptical about this sort of thing and really surprised me when she waxed lyrical about them too.
Price is always the acid test for things with my mum because she is, and I quote her directly, 'tightfisted' and won't pay over the odds for things even if she likes them; if something's overpriced, in her opinion, then forget it!
So I played my trump card!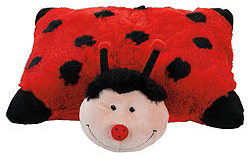 "How much do you think Lily the Ladybird Pillow Pet costs?" I asked.
"I have no idea..." my mum replied, "tell me."
"£15," I revealed.  "What do you think," I continued, beginning to brace myself for her reply, "value for money, or not..?"
Well what came next, shocked me!
"Oh yes, EASILY! She's cute and endearing and just the right size for using as cushion anywhere, don't you think? She's just lovely.  Wonderful for cuddling, in fact - just wonderful in every way!"
I know you don't know my mum but, trust me, this is high praise indeed and such praise and effusiveness from her should never be taken lightly.  I happen to agree, I think the Pillow Pets are more than reasonably priced for what they are and the utter joy that Lily, in particular, gave my niece.
And finally...
Well there's not much more I can tell you!
Pillow Pets have a new website coming soon - their domain is www.pillowpets.co.uk - but you can buy any of the eight Pillow Pet characters online from either
Smyths Toys
Toys R Us
Tesco and/or
The Entertainer
They all sell for the same price £15 less a few various pence depending on which retailer you choose.
If you want something for your youngster that's amazing and cuddly and will be LOVED to within in an inch of its life, and probably treasured well into teenagedom (or should that be teenage-doom?!) then you really won't go wrong with a Pillow Pet.
There are absolutely no cons at all - I asked everyone to try and think really hard if they could think of any but they couldn't, only all the pros.
We all give Lily the Ladybird Pillow Pet a resounding 10 out of 10!