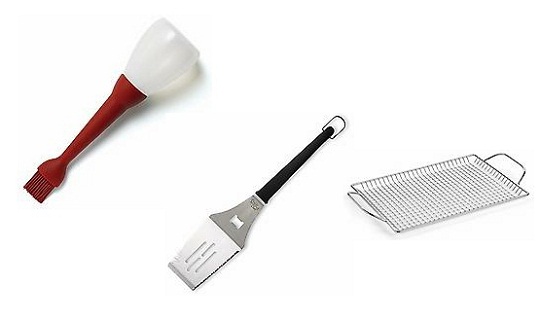 I received three items to review for use on the BBQ. All three come from The Pampered Chef. This was a bit of a surprise as I didn't realise you could buy their products online. I thought you could only get them from Avon-style selling parties.
There's nothing I like more than a BBQ. So I was pretty thrilled to get to try these new accessories out. In my mind I pictured myself writing this review after a few weeks worth of BBQs, having had many opportunities to thoroughly test them out.
As it happens, it didn't quite pan out that way. Once. We've been able to fire up the barbie once. And that was for a brief afternoon on the Monday of the Jubilee bank holiday weekend. Remember that day? There were some brief moments of sunshine, and crucially, it was the day it DIDN'T RAIN. Ah yes, now you remember.
On the plus side, it was a BBQ for 40 to 60 of our neighbours, so the I did manage to give a three a jolly good try out. Here's how we got on with the Pampered Chef's BBQ Basting Bottle, Barbecue Turner and BBQ Grill Tray.
BBQ Basting Bottle
A trick to keeping meat juicy, moist and tasty is to continually baste it with a sauce or marinade. Previously I'd always just used my brush, dipping it in a bowl and brushing on the meat.
However, the bowl soon gets quite cruddy and it isn't always ideal if you're dealing with really bloody raw meat. So I was quite intrigued as to how the BBQ Basting Bottle (£13.95) would work.
It was smaller than I was expecting from the photo on the website. But really it is plenty big enough. You can fill up the bottle with up to 300ml or 10 ounces of sauce. It them goes down the stem to be spread evenly by the silicone brush at the end.
Your then squeeze the bottle to get the liquid out while you are brushing it onto the food. This is a bit trickier than it sounds, and to start with I needed to use two hands. One to squeeze the bottle and one to steady it.
Once I got the hang of the fact that you don't need to press that hard on the meat to brush the sauce over it, I did a lot better and was soon using just one hand.
It was also really easy to clean, just threw it in the washing up bowl with everything else and it was done. You might want to have a bottle washer to hand though, if you're using particularly sticky sauce.
I know that need to make the bottle easy to squeeze, but even so it did seem a bit too pliable. You wouldn't want to be heavy handed with it, and it did seem to indent quite easily. Over all though, it is the best method for basting on a BBQ I've ever used. I'm not entirely convinced I loved it enough to pay more than ten pounds for the privilege.
Pros: easy to use, does the job really well, more hygienic than other methods
Cons: a little pricey for what you get
Overall verdict: 9/10
BBQ Turner
This, according to my husband, is the dogs bollocks when it comes to cooking on the BBQ. It is the BBQ Turner, and it will set you back a rather hefty £18. This is no ordinary turner though.
Since flipping food over is pretty much all the cook does at the BBQ I guess it does make sense to invest a little bit in a good quality turner. But honestly the way that my husband and the other guys were talking about, you'd think Arthur had just pulled Excalibur out of the stone.
It's perfect balance, excellent wrist action, and finely honed edge were all raved about. Honestly, I'm not kidding. And they laugh at the way we talk about shoes and handbags!
The Turner is 44cm long, has a bevelled front edge, a serrated side edge, piercing corner, and a bottle opener. There's also a cover to keep the business end safe with not in use. I personally really liked the grip - this has finger indentations on the back making it really easy to hold.
I wanted to downgrade this on the price, but my other half won't let me. He reckons it is worth every penny!
Pros: you'll be the envy of all your (male probably) neighbours
Cons: a lot to spend on something to turn meat over with
Overall verdict: 10/10

BBQ Grill Tray
The BBQ Grill Tray (£24) measures 35cm by 25cm. So make sure it will fit your BBQ first! We just got a new, larger BBQ this year and this was a good fit on there. It sat perfectly sideways, leaving half the grill area for the meat.
We brought this out to cook the stuffed mushrooms on. This way, the vegetarians didn't have their food cooked on the same grill as the meat. It would also be ideal for cooking fish on a BBQ, and I can see myself grilling various vegetables on it too, with or without having to skewer them first.
The is a hefty, solidly built grill, with a mesh that's small enough for finer foods, but not too small (and easy to clean). The handles make it easy for carrying about as well, and the sides tilt up slightly, so there's less likelihood of food sliding off.
Pros: a good way to grill fish and vegetables on a standard BBQ
Cons: again, the price. However, if you're going to spend a fair amount on a BBQ, you will want a good quality grill tray to go with it.
Overall verdict: 8/10