I was rather intrigued when I saw my name next to the 'Yummy Mummy M&M Direct' review - that's was the only information I had before two items from M&M Direct landed on my desk.
I don't know about you but there are days when I feel the absolute opposite of yummy and anything that may go some way to making me feel more so can only be a GOOD thing!
The M&M Direct parcel arrived and inside was an Onfire Jute Shopping Bag - its title doesn't do it justice! - and a pair of Sunwise sunglasses.  A bag and a pair of giant shades - awesome, just the job!  You can hide tired, bleary eyes behind the sunglasses and who doesn't love a new bag to play with!
Sunwise Womens Black Framed Sunglasses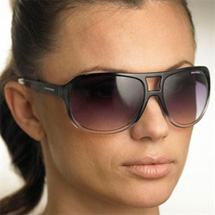 I've just added up the number of pairs of sunglasses I own - six! In my defence, three pairs live at my home in South Africa and the other three in the UK; three pairs are mirrored aviators (think Tom Cruise and Top Gun; I LOVE them!) and the other three are of the big, massive, oversized  variety - I love them too (okay, that's actually not a defence, it just makes it sound worse!).
What I don't love is spending silly money on shades.  My 16-year-old teenage daughter borrows them and they're subjected to the abuse of a teenage girl's school bag; my youngest son likes to try them on but hasn't quite mastered the art of not touching the lenses.
I can't pretend I look after my sunglasses much either - they get dropped, sat on or slung onto the dashboard or passenger seat of the car when I take them off.
So my criteria for sunnies is: robust (beyond belief) and less than £15! The Sunwise Womens Black Framed Sunglasess have a recommended retail price of £18.99, but M&M Direct are selling them for £7.99 - which is much more like it.
If you like your sunglasses to come in something more robust than a little soft drawstring bag then you're in luck, these Sunwise sunglasses come in a very sturdy hard shell plastic case.
If you like oversized shades then you're going to love these particular Sunwise sunglasses; if you don't then they're going to be a bit big for your taste.  They also have a bit of a retro 70s feel to them too, and I've been trying to pin down why - I think it's because the top of the frame goes straight across the face, rather than following more of an eye shape; have a look and see what you think!
Those of you who might get upset at tales of sunglasses abuse should stop reading now; in the spirit of review testing they weren't looked after at all!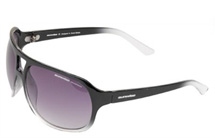 I threw them on the floor, I sat on them, I bent and twisted the arms, I dumped them in my handbag (not in the case) and then added my car and door keys into the mix and then rummaged around, LOTS.
I have to say the lenses withstood scratches well and whilst they did sustain minor lens damage, it was nothing that you could see, or affected your vision, when you put them on.
Don't misunderstand me, I could have broken them if I'd been rough enough but it would have taken over-the-top and excessive force to do so.  So if you're after a cheap pair of oversized sunglasses that are strong enough to put up with some very bad treatment then you could do far worse than these Sunwise sunglasses.
Onfire Jute Shopper Bag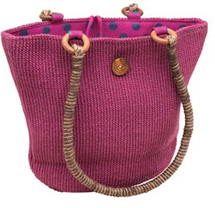 The pictures of this Onfire Jute shopper bag on the M&M Direct website really don't do it justice at all.  It looks rather ordinary in the images, but when it's right in front of you it's rather cool and funky looking without looking as though it's trying too hard.
My mum is a massive bag fan so I decided to let her road test it
1) I knew she'd be brutally honest about it and
2) I'd earn myself a fair few brownie points.
Here's what she had to say about it...
"For a light summer bag, this is about the perfect size.  The strong rope handles are a comfortable length to sit on your shoulder and allows the bag to be safely clamped to your side by your elbow."
THIS is a major requirement for bags as far as my mum's concerned, she always has this thing about making them difficult to snatch or sneak things from.
"It's big enough to carry all necessary summer things and a book for essential summer reading.  The only downside is, it could do with a phone pocket on the inside.  There is a decent sized, single zipped pocket but a phone pocket would be the cherry on the cake."
My mum loves purple and I have to say, the colour of the outer jute is just lovely; the inside cotton spotty lining is great too and adds a touch of something 'extra' to the bag.
It doesn't zip closed, instead it has a wooden button on one side and rope loop on the other that goes over the top to pull the two sides together.
The rrp for the Onfire Jute Shopper Bag is £29.99 and despite loving it my mum says she probably wouldn't pay that sort of money for it.
However, M&M Direct are currently selling the Onfire shopper bag for £12.38 and my notoriously tight-fisted mother says that's a GREAT deal, exceptional value and would, actually, happily pay between £15 and £16 for it; amazing!
And finally...
Sunglasses are a very personal thing, so whether you like how they look or not will be the major factor in whether or not you'd buy them. But if you do like the style of them then you can rest safe in the knowledge that they're not going to fall apart or scratch, the moment you put them on and you won't need to take out a second mortgage to be able to afford them.
Coming up with pros and cons for the Sunwise sunglasses is a bit tricky - well for the con element at least, because the only reason you wouldn't buy them is if you didn't like the style.  However, this is hardly a con, rather just personal taste.
The Onfire bag is just great and for less than £13 is a real bargain; there's really nothing bad to say about it at all.  Even with the lack of phone pocket, as wished for by my mum, it's still an awesome bag that looks great, is very strong and completely fit for almost any purpose - shopping, a summer bag for 'stuff', or perhaps as a gym bag.
If a score out of 10 will help you - I give both items a 9 out of 10.
And would you feel like a 'yummy mummy' if you had both these items?  I don't know about that, but the glasses will hide a multitude of sins and the bag might just cheer you up a bit because it's just lovely.