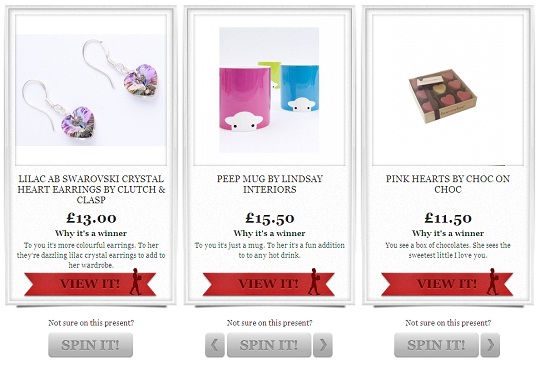 This is the actual name of the website. Man Buys Present. Every time I see it, I keep thinking of it being like a newspaper headline. Man buys present - shock! In a way I guess that's why the site exists in the first place. Because many (but by no means all) men don't like shopping. They don't browse, they don't just randomly walk through shops to see what is there.
As a result, when they do have to buy a present it is like staring into the great black abyss of nothingness. What the heck do they do? Well, for many guys this seems to mean sitting on the sofa blinking until there's no time left at all and you get whatever is nicest looking on the shelf at the service station. Which is why I have so many Quality Street tins to use for storage ...
I'm being a bit sexist though. The truth is what most guys would like really is a bit of an idea, or a few ideas, and that's what Man Buys Presents seems to aim to do. You go to the website, answer a few simple questions, and then are presented with three gift ideas. If you don't like a gift idea, you hit the Spin It button, and another idea pops up. I don't know why they chose to make it work like a fruit machine, but the guys I got to look at this site seemed to find it OK.
So, I got £20 and a chance to try the site, or rather the service, out for myself. Here's how I got on.
To be honest, the whole website made me want to scream. There's a link in the top right called Get out of jail, for those really crucial moments you're dead if you don't come up with the goods. Like forgotten anniversaries. And there's a very shapely female lounging on a sofa wearing barely anything above the words 'She'll do anything'. This is Tegan, "your new cyber assistant, on hand to keep you out of the doghouse. She'll remind you about dates and respond to queries or requests."
Oh yes indeed. It only took just the fingernail of the feminist inside me to have me screaming at this point. So I took a few deep breaths and handed the whole thing over to my other half to do the review. It seemed a bit pointless me carping on about these things when in fact I've not enough active Y chromosomes to fit the demographic.
First you pick who you want to buy for - choices include wife, girlfriend, daughter, niece, friend etc. Then you are asked for their age. Under the heading there's a subhead helpfully prompting you with 'her's not yours', which made my husband a bit peeved actually. He said THAT was sexist - the assumption that the guy would automatically think of himself. I kept my thoughts to myself.
Then you give the age, price range, and when you need the item delivered by. And finally you get to the page where the choices are presented.
At this point my other half started to snigger. Loudly. He wouldn't let me see the laptop screen at first and I had to force him into it. Unbelievable. One of the options presented was a teatowel! Is that really what the site thinks makes a suitable present for a man to give his wife (the occasion being 'just because' but still you'd think they'd go for something romantic). Is it because I'm *cough* of a certain age?
At this point I was really not amused at all. But it seemed to vastly improve my other half's opinion of the website. After that we spent some time going through the options presented together.
On this page, you get a little description of the item presented in a what a guy sees, what a girl sees, kind of way. For example, a cosmetic bag and zip purse is described as "To you it's a cosmetic bag and purse combo. To her it's a stylish way to keep her growing list of cosmetics in check."
Now I thought this was the worst kind of cringing marketing tosh. My other half thought it was quite helpful. He said that even though the wording was a bit girly (huh?) it was a good idea as frankly, he hadn't a clue as to why anyone would actually want most of the stuff on here. He mentioned the Egyptian cotton sheets again - I'd finally convinced him that they were a great Christmas present, but he still found it hard to accept that bedding was any kind of present at all.
The price on the page is what you get, so to speak. It includes delivery, and the item will be nicely gift wrapped. You can also select a message to be put on the tag, and the address it is to be sent to. Really handy if it is a gift you can't deliver yourself.
But for any guys reading this, if it is for your wife or girlfriend, then get it sent to yourself, with the tag blank. Write in the tag yourself, and give the gift personally. It counts, trust me.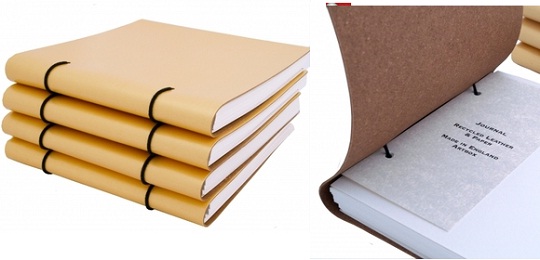 Finally the day arrived and my gift was delivered. It was just beautifully wrapped. Even though it was for this review, I actually felt a little emotional. Having a beautifully wrapped gift with a ribbon (a ribbon!) does that to me everytime.
However, there is a caveat in here. There was promotional material from the seller in the box. Not good if you are sending straight to the recipient. Also, I think you're paying a bit extra here purely for the service (I got the Gold Recycled Journal, which although absolutely gorgeous and desirable was worth in my opinion £15, not £20).
However, I think I will actually use the service myself in the future if I'm ever caught for time. It is nicely, and simply laid out and makes gift shopping really quick and easy. Tegan will also help you with your buying, and help you make up a schedule for the future too.
But what I loved the most, more than anything else I've ever seen on a website before (and oh how I wish ALL online retailers did this) was the delivery option. You put in the date you need the item to arrive by - and then you ONLY see the items that can be delivered by that date.
Simply the coolest thing ever.
Pros: fast, easy to use, lovely items
Cons: a tea towel for the wife? Seriously?
Overall verdict: 8/10