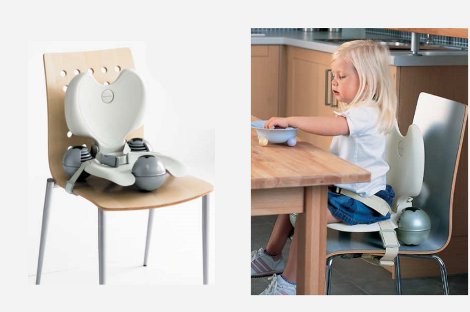 Highchairs. As with everything else in parenting and having a child, there are so many options and varieties to suit your lifestyle, if not your budget, that it's sometimes hard to know what to choose.
When my daughter was about 10 months old, we finally caved and bought a high chair – not the one we wanted, but the one we could afford, which was a mistake. So, at 18 months, we got another chair – this time a booster seat – and it was great.
The bonus of the Mamas & Papas Advance Booster Seat is that firstly, it sits on the chair, so there are no awkward legs to trip over, there's no extra chair that needs to find a home so the high chair can be next to the table, and most importantly, our daughter is at the table with us, rather than next to it, separated from us.
The Mamas and Papas advance booster seat sits on four spherical balls, with eight adjustable heights so that it can grow with her. At the moment she's on the highest setting so that she can reach the table easily, which is great as I don't foresee that we'll need to buy anything bigger (or smaller)  anytime soon.
The Mamas & Papas Advance Booster Seat attaches to the chair under its seat, so whether you have a collapsible or solid chair, it shouldn't make a difference. And because the Mamas and Papas advance booster seat has a backrest, the collapsible chair also doesn't collapse when my daughter tries to 'ride' it as the child's body weight acts as a counter weight, which is fantastic.
There's a harness to keep her in, if you need to use it (probably with a smaller baby), and you can pull the little one in as close to the table as you need.
The Mamas and Papas advance booster seat also folds up quite compactly and would fit easily in a suitcase, and is relatively light weight, so could even fly with you if you wanted it too.
All in, we love this booster seat from Mamas & Papas and I really wish we'd just gone with this in the first place, and saved ourselves the cost and bother of two previous chairs!