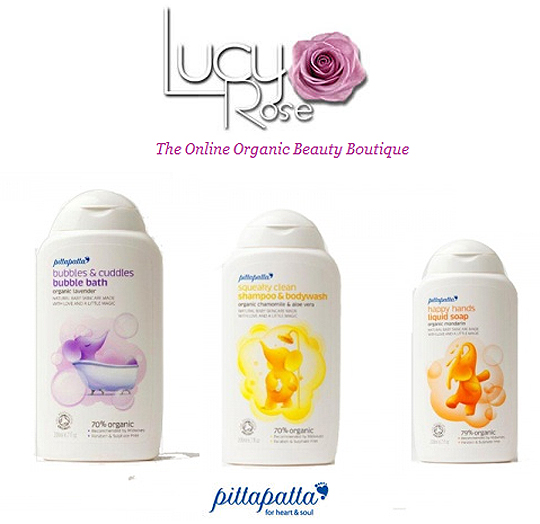 When I received notification of my Lucy Rose review assignment, I'll be honest that I had NO clue what to expect.  WHO on earth, or what, was Lucy Rose?!
A quick Google revealed that Lucy Rose is an Online Organic Beauty Boutique - you're one-stop online shop for all things beauty that don't contain all the things we now know are nasty and most definitely don't want anywhere near our skin.
There are thousands of products available from all the usual organic beauty suspects, and some names you may not be so familiar with.  You can search by brand, if you have a favourite, or you can search for a specific product and take a look at what each brand stocked by Lucy Rose has to offer.
I received three products from the 'Everyday Essential Elly' range, by Pitta Patta - they've been formulated especially for babies and young children.
The entire Pitta Patta ethos will appeal to some of you; some of may think it's a bit 'out there'  but most of you, I'm sure, will appreciate that their products are (mostly) organic.
So their ethos; it reads like this...
We use real ingredients that work and we believe in supporting the whole of a child – the mind, body and spirit.  The Pitta Patta natural skin care range of products works on the heart and soul of little ones, through the action of the spiritually active ingredients contained in the products, known as gem essences.

When we work with the mind, body and spirit of an adult or child we are allowing all aspects to work together which in turn brings about a state of balance. These natural skin care products also supports babies' skin, including dry baby skin areas, and baby skin problems in general.
Well, with all of that in mind - here's my verdict...
I enlisted the help of my ex-husband and our youngest son, Edward, to help me road test the Pitta Patta products - I can be quite cynical from the outset, Simon is much more neutral until he's made a thorough assessment and Edward...?  Well he's a straightforward six-year-old boy who'll tell it how he sees it.
Pitta Patta Squeaky Clean Organic Baby Shampoo and Bodywash
The Pitta Patta Squeaky Clean Organic Baby Shampoo and Bodywash retails via Lucy Rose for £7.50 for 200ml.  It comes in a simple white bottle with a very cute elephant drawing, in yellow, on the label - this must be Everyday Essential Elly!
The key ingredients are Aloe Vera, Chamomile, Lavender and Mandarin (in a vegetable based wash) which are soothing and calming to the skin.  The official information says it also contains a 'synergist blend of essential oils and gem essences helps balance the mind and spirit as well as the physical body'.
My brain wanders off when it comes to talk of gem essences - apparently 'Essences made from gems, crystals and minerals carry an energetic resonance that will remind our etheric patterning how to be in balance and healthy.'
Well, I'm not about to say that gem essences, crystal healing et al is a load of bunkum, but I really can't be sure that I, Edward or anyone else, wouldn't feel the same way after a relaxing hair wash and bath using something that didn't contain those 'magic' ingredients.
The Pitta Patta Squeaky Clean Baby Shampoo and Bodywash, washes hair and bodies nicely enough, and it smells...well, nice.  There's not much more either of us had to say on the subject - other than Edward wasn't keen on the elephant image, "it looks like it's for babies and I'm NOT one!"
Pitta Patta Bubbles and Cuddles Bubble Bath
Packaged in the same white plastic bottle, but with a lavendar coloured Elly reclining in the bath on the label this time, the Pitta Patta Bubbles and Cuddles Bubble Bath also retails for £7.50 for 200ml.
It doesn't smell overly of lavendar - which is one of its key ingredients - which is a good thing if that's not what you want. It also contains Bergamot, an essential oil that's said to bring cheer and happiness through its scent.
Edward was a bit non-plussed; in fact, he came to the conclusion that he prefers his Simple 'Baby' moisturising bath - Simon prefers this too as it costs just £2 for 300ml and also contains lots of skin-loving ingredients, vitamins without nothing nasty.
Pitta Patta Happy Hands Liquid Soap
Of the three Pitta Patta products we received the Happy Hands Liquid Soap was the one that smelled the way we expected it to the most - of oranges.
It comes in exactly the same bottles as the others and which we all agreed was a bit of mistake and a let-down - would it be so hard to have a bottle with a pump dispenser?
Small children, a flip-top lid and nothing to regulate how much they squeeze onto their hands is a recipe for messy disaster; not to mention a potentially expensive one - £7.50 for 200ml of hand soap that you can squeeze at will...we think not.
But OF the hand soap itself?  Well it's okay, we really couldn't tell you, hand on heart, that it's super special - even if it is, and I quote from the label, 'made with love and a little magic'.
And finally...
Edward just wasn't impressed at all by any of the Pitta Patta products - "they just wash and clean!" - and the elephant graphics are a real turn off for him to really get enthusiastic about them.
Simon wasn't overly impressed with the packaging either.  He feels they don't look exclusive enough for what is a premium priced product, "They look no different from the cutesy supermarket own brands of similar products," he says.
We both ended up with questions that we couldn't find the answers to:
Why only partly organic?  None of the products are 100% organic which begs the question 'what is the point?' Either you want something organic or you don't.  Or is it simply because the ingredients that aren't organic cannot be and, as such, the entire product cannot be labeled so (if you see what we mean)?
If a big part of the Pitta Patta ethos is based around the believed benefits of gem essences, and that it's this which pushes the price to high levels, then why isn't this prominent on the front of the packaging?
If you were to see these products on a shelf, surrounded by other similar baby skincare items, you wouldn't have a clue as to why it was so expensive in comparison.  Even if you read the labeling on the back you wouldn't necessarily be any the wiser.
We think this is a shame because we don't mind paying more for products that are a little different, a little special and are packaged accordingly, but we need to know that they are and we need to them stand out from the crowd so we can find them!
None of this is to say there's anything wrong with the Pitta Patta products - there isn't.  They are okay to use (lovely, would be pushing it a bit far) and they do the job you want them to do.  Whether they restore balance to your child's energy and spirit...I'll leave you to draw your own conclusions on that, if you decide to try the Pitta Patta products for yourself.
Simon and myself agreed we'd give an overall score of 6 out of 10 for Pitta Patta - with points lost for the price and the other question marks I've spoken about - and a 10 out of 10 for Lucy Rose themselves, their delivery speed was super quick, their service faultless and their website is easy to navigate around, no mean feat when it features so many products!
NOW, if you want to try these products for yourself and see whether or not you agree with our assessment then we have an exclusive Lucy Rose discount code for you which will reduce your total spend by 10% (it isn't exclusive to Pitta Patta products) and delivery is free when you spend over £15.
Tamsin revealed it yesterday and you can find ALL the details at the end of this LINK.
One last thing - for what it's worth, I think that Pitta Patta's Elly the elephant is rather cute!