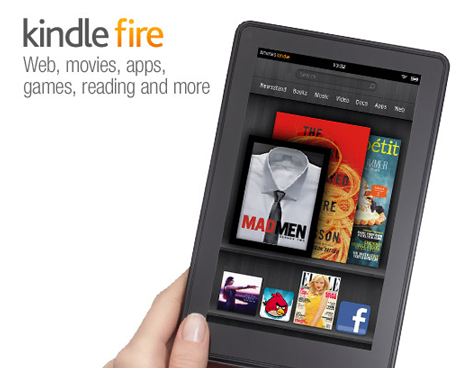 I am so in love with my Kindle Fire,(£129) I cant but tell everyone about it. I think a mum who loves to read cannot be without one.
I've always been a big reader. I used to devour books one a day, even in school. Then I had children and suddenly, once my first could crawl, my reading pretty much stopped. I've still been buying books, and they're a huge tower on my bedside table. I never get to them. I received a Kindle earlier this year, and it's transformed my reading. I don't get near a book a day now, but I probably average a book a week again, which is awesome going.
Any mother of little people will know that your hands are always needed, so holding a book in one hand while you're feeding your baby is out of the question. Lying next to your little one getting them to sleep with a light on? No dice.
These are the two main places my Kindle Fire now comes into its own.
The cover I bought for it has a stand which means I can cuddle my little one with both hands while nursing her, and the Kindle stands there, being read with the occasional touch to go to the next page. At night, I switch the screen to be white text on a black screen and the light doesn't bother my baby either, so she goes off to sleep quickly. I can also lie in bed reading now, which means I'm not distracted by emails or the TV.
Except, the Kindle Fire is also a tablet, so if I want to get on to my email or look something up on the Internet, I'm able to do so quickly and without waiting for my laptop to boot up.
It's also Skype ready, so again really convenient for Skyping family while running around after small people. In fact, that's a godsend for us. It's also got the children more involved with showing Nana their toys and so on.
I also use the Kindle Fire in the kitchen a lot, to access recipes online. It has a tiny footprint as compared to the laptop, so it can be out of the way, but the screen is large enough to follow a recipe without too much effort.
The Kindle Fire is supposed to charge in 4 hours, but I plug mine in at night and use it the next day. If you use it for a lot of web surfing, and download lots of apps and take photos it does run down pretty fast - in the course of a day - but if you're just using it for reading books it lasts for quite a few days without needing charging.
While I like the flexibility and usefulness of the Kindle Fire as a tablet, it's primary purpose as a reader is perfect, and the fact that it's full colour also makes it really ideal for children's books. My previous Kindle was black and white only and was less engaging for children, but with this one my toddler will happily sit 'reading' picture books while we're driving or waiting in a restaurant or similar.
Honestly, it's one of my favourite belongings and it's always with me, waiting for me to snatch moments to dive into whatever I'm reading, and I could not recommend it more highly if I tried.