It's been a funny old year for hayfever – my husband is normally a terrible sufferer, but this year he's not had a runny nose or puffy eyes once.
When Boots sent us their range of Hayfever and Allergy sprays and tablets we sent them to Laura, mum to a 2 year old who suffers from a host of allergies and now that her little one can play out in the garden, the hayfever has been the main reason she's not been able to go outside some days.
We sent Laura a Sterimar Nasal Hygiene spray, Sterimar Baby Nasal Hygiene 0-3 years, Prevalin Allergy spray for kids, and Boots Alternatives Hayfever Relief.
"We received a box a few boxes of sprays and tablets," says Laura, "and I felt a surge of hope that my little girl would be able to enjoy the summer outside with the rest of the family this year."

There are two types of Sterimar Nasal spray, the Isotonic and the Baby.  Sterimar Isotonic is a seawater spray that gently clears your nose of allergens, leaving it free to breathe more easily. It doesn't contain any preservatives and is entirely drug free. The spray is contained in a pressurised container, although the sea water doesn't come into contact with the nitrogen that creates the pressure. You can use it 2 – 6 times per day in each nostril as needed, and each can holds about 150 doses.
"It feels a little odd blowing water up into your nose, but it definitely beats snorting salt water to get rid of a blocked and stuffy nose, and is also a lot easier on the sinuses than home made salt and water solution.  It leaves a brief salty taste in the back of your throat, but that fades pretty quickly too."
As to its effectiveness, Laura got her partner involved. "My partner had the dreaded man flu a few weeks ago and I asked him to use the two different types to test their effectiveness on colds. The baby one didn't work for him at all, I' not sure if there's a different concentration of salt, perhaps? But the Isotonic one worked pretty well, and at least unblocked his nose."

The Sterimar baby version for birth to 3 years actually has the exact same concentration of sea water – 31.82ml – and apart from the packaging, it seems the only difference is the nozzle.
"Actually, I thought it a bit cheeky that there's a 'baby' version once I realised they were the same ingredients, but when it came to using it on my daughter, I understood. The 'adult' version is a long narrow nozzle that you can put in your nose. The child version has a different nozzle with a thick stem, but narrow tip. It's this tip that goes into the child's nose, and the thicker stem basically prevents you from sticking it too far up the child's nose. Actually I think it's pretty genius otherwise I could easily have hurt my daughter without thinking about it."
Applying it can be tricky, Laura told us, because you have to get the child to stand still long enough to put this to her nose, and then spray without too much recoil. "I think my daughter figured out that it was helping her though, because after the first time, she didn't fight it."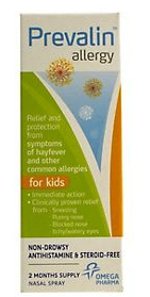 The next product Laura tested was the Prevalin Allergy For Kids. Aimed at children 6 – 12 years old, Pravalin Allergy is more of a prevention than a cure. It doesn't contain steroids or antihistamines and doesn't cause drowsiness and should provide 4 – 6 hours of protection.
"As compared to the others, this has a lot more chemicals in it, but it is also something  you can use when you know there's a high pollen count, for example, rather than waiting for an attack  first.
I couldn't use it on my 2 year old, but again, my partner tried it and he hasn't had as bad a time with hayfever as her normally does. So, it could be this, but I can't say for sure as he's a fair bit over 12!"
The nozzle on this is the old fashioned pump action and tweens would be able to administer it themselves.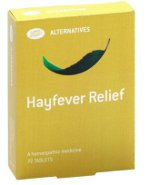 The final item Lauren – or her family, really – tested, were the Boots Alternatives Hayfever Relief tablets. These are a blend of Allium, Euphrasia and Sabadilla, and are bound together by Lactose and Sucrose. They are suitable for children and pregnant women.  "The tablets were great. My partner wasn't convinced that they'd work, but as I said, he's really not suffered much at all this year. They don't make him drowsy at all, and they don't cost very much, so we're happy."
Speaking about cost, the Sterimar Isotonic will set you back £6.75, while the Sterimar Baby is £4.07 (it's half the size). The Prevalin Allergy for Kids has 280 doses at £9.99 and the Boots Hayfever Relief tablets are £4.70 for 72 tablets.
Have a hayfever free summer, all!