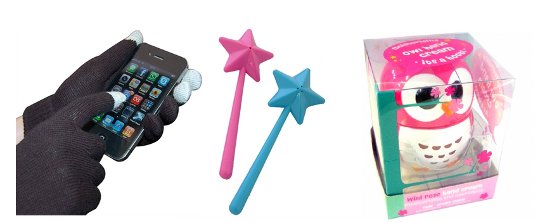 We're no strangers to Find Me A Gift here on PlayPennies. In fact, we've reviewed goodies from them at almost every key holiday or event over the past year and with good reason – generally, they have something for everyone.
At Christmas time this is no different – although you've got two hours to place your order today if you still want any of these before Christmas, as their next day delivery service cut-off is 3PM today.
We gave three gift ideas to PlayPennies mum Tanya to review for us, and she did a great job doing so.
The first item we sent her was a pair of touchscreen smart gloves. I just love the idea of these, if they work as they're supposed to, because putting gloves on is the most surefire way to ensure either my face will itch, or my phone will beep.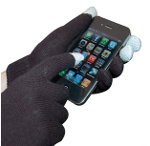 Tanya says, "I honestly didn't expect anything from these at all. I didn't. I mean, how could they work when your fingers were still covered in fabric?"
But she was very keen to try these because, as she says, "Let's face it, texting without gloves in winter is horrible. Not only do your fingers get all stiff and cold but you get irritable and fed up. Well, I do. I don't really enjoy being cold."
"I also (don't laugh) tend to play Patience on the walk to school. It's a longish walk with zero things to look at and I get bored, so I play Patience while I walk. These gloves could mean the difference between boredom and entertainment."
So, Tanya decided to put them to test during the recent (very) cold snap. "I proceeded to use my phone to send emails, reply to texts and (hahaha) play Patience.
Boy, was I impressed. I genuinely cannot feel the difference in fabric thickness between the white and black parts of the glove and yet typing is the same as if I wasn't wearing gloves at all. They don't cause any more or any less errors than when I type without them. Of course you do have the inevitable limitations to your view. The gloves are thicker than fingers so a little bit more of the keyboard is obscured. However, this is hardly a design flaw. It is more of an expected side effect."
The only down side was that these are one of those 'one size fits all' items, and Tanya wouldn't even let her husband try them on properly because it seemed obvious to her that they would break. She does not think they are really 'one size fits all'.
At £7.99 (although they're currently £6.99) they're a great price for something that really works.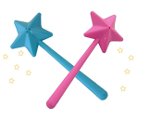 The Salt and Pepper wands we sent along weren't quite as well received. She found them really odd and could see them working just fine in play kitchen, without salt and pepper in them, but, she said, "They're not something I would carefully wrap up and give to my sister in law. Although she is a bit arty farty so perhaps she would love them?"
In fact, Tanya's response was about as quirky as the wands are, so I'm just going to tell you what she said word for word, as it made me laugh!
"I did make a lovely bobotie last night and I used the salt and pepper shakers to season it while it was bubbling away on the stove. And yes, I did get that flash of 'I is a witch making a spell' thing. Sort of shaking the wands over the enormous steaming pot made me want to chant something and see what happened."
Tanya felt they'd make a funny, quirky and daft gift for someone you know who loves "fairies and stuff". Although they were well made and worked fine, she didn't really 'get' them and felt that at £4.99 (currently £2.99) you're getting what you pay for.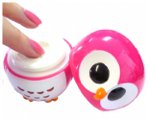 The final Find Me A Gift goody we sent Tany was the Wild Rose Owl Hand Cream, which is unfortunately out of stock at the moment.
"This couldn't have arrived at a better time. My hands always go mad as winter kicks in and the heating goes on. Last week, in spite of preparing for it, my hands cracked and split. It HURTS and the only way to fix it is to keep them constantly moisturised. I have handcream at my desk, next to my bed, in the bathroom … everywhere."
This is an adorable hand cream in cute packaging.
The lid of the owl is its head which twists off nicely to reveal a body full of rose scented hand cream. "I immediately took a glob and rubbed it into my sore hands."
The cream is light and fresh, not too heavy and rich, and absorbed really quickly. "It smoothed over my skin nicely and did leave it feeling very soft and nourished, which it desperately needed. It isn't a heavy rose smell but has a light scent that doesn't cloy or stick in your nose after a while."
Tanya was pleasantly surprised by the lotion, as she suspected that this pot was really going to be all about the funky bottle, but it wasn't at all. While the jar isn't recyclable, after a bit of a wash it could be reused with other cream, or used as a ring box or toy.
And that's that from Find Me A Gift for this year, but I'm sure we'll see them again soon!