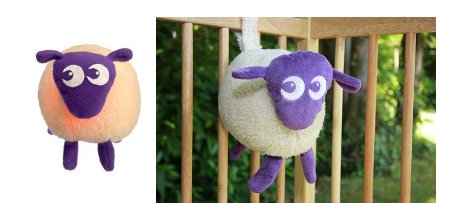 Ewan the Dream Sheep is a soft toy intended for newborns, which is absolutely loved by my toddler.
He has four sounds and a night light, and each of the sounds has the rhythmic rhythm of a heartbeat in the background, so it's intended to soothe and comfort little ones to sleep. While on principle I'm not a fan of things that are intended to 'replace' parental involvement with babies, I can see where Ewan has very definite benefits: when you're driving, at work, or your baby sleeps in a cot, for example.
The four sounds are a swooshy womb sound, a heartbeat, rain sounds and harp music. There's volume control – as in a quiet or loud setting –and a 20 minute timer.  The sounds are meant to be effective in settling and soothing babies, and I'm sure most of us will take what help we can with that.
The light has a soft pink glow, but it does chew the batteries quite a bit, and we didn't want to create a dependency on night lights, so didn't use it.
As a toddler, my daughter is very fond of 'Sheep'. He is cuddly and kind of feels like real wool ( I don't know if it is though). He squishes up quite well for travel, and even when the batteries are flat, she's happy with him as a sleep-time companion.
Ewan also has a Velcro loop for a tail which means he can attach to a cot or pram when you're on the move.
As far as a soft toy goes Ewan the Dream Sheep isn't cheap at around £30, but  if you consider that it acts as night light, a white noise machine in the cot and a travel toy, it's value increases – especially if you're one of the parents that swear by its effectiveness.