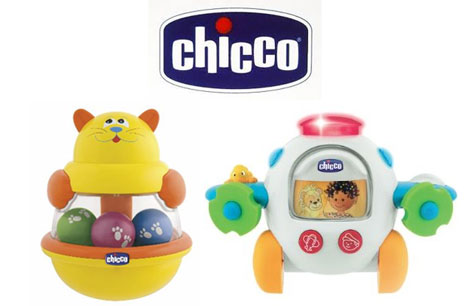 The lovely folks at Chicco Toys sent us their Sing-along Airplane and a Roly Poly Kitten toys to have a play with.
Now although my teenagers still act like three year olds, I really felt that these Chicco toys should be tested by kids in the proper age range so sent the Chicco Sing-along Airplane to PlayPennies mum, Kim, and the Chicco Roly Poly Kitten off to PlayPennies mum Emma.
Here's what they thought...
Chicco Roly Poly Kitten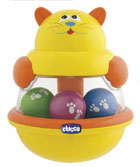 "The Roly Poly Kitten is a self-righting spinning top toy," Emma told us, "and was so well packaged that it tool me five minutes to get Roly Poly Kitten out of it all!"
Emma also said that the Chicco Roly Poly Kitten toy is actually very heavy.  This is due to it having a weighted bottom which makes it balance and allows it to right itself.
"It's a nice bright toy made up mainly of orange and yellow colours; it's very cute," Emma said, "and is advertised as being suitable for babies aged six months and upwards," well isn't that a happy 'conicidence'.
Emma told us that when she first showed her baby the toy, her little face lit up and she got quite excited; bless. Glancing through the instruction booklet, Emma came across the much (over)used phrase: 'This toy must only be used under adult supervision.'
"Maybe they're just writing that to cover themselves, but I see no reason to leave baby alone with a toy like this!" Emma marvelled.
When you press Roly Poly Kitten's head it spins the internal bits, making the balls rotate inside and Emma told us the mechanism is quite easy to press.
"My little one isn't quite capable of understanding that she had to do it herself, but had great fun when I was playing with her," Emma revealed.
Apparently the internal balls make a bit of a clinking noise when spinning, "I am having horrible precognitions of getting very annoyed at that noise if done over and over again, by the inquisitive hands of a toddler!" Emma confessed.
Chicco Sing-along Airplane 

Over to Kim now and the Chicco Sing-along Airplane...
"The Chicco Sing-along Airplane is a really well made toy. It's nice and chunky and looks like it will withstand the rigours of being played with by a toddler," and we all know how rough that can get!
"The toy itself is wonderful and my daughter couldn't wait for me to get it out of it's packaging. It was held in to the box with 4 of those plastic ties but they were easy enough to remove , which made a change."
Well now, isn't that interesting!
The extraction of Emma's Chicco Roly Poly Kitten required skills worthy of a Krypton Factor contestant, whereas Kim's was dead easy to remove.
There's  a lot to be said for 'frustration free packaging' and I hope that more and more manufacturers cotton on to it SOON.
Kim also told us that the 2 AA batteries required were, not only, included but already installed into the Chicco Sing-a-long Airplane,
"Not having to fiddle around putting batteries is going to make this an excellent Christmas present, there's nothing worse than looking for batteries on Christmas morning and trying to insert them with a screaming toddler at your ankles!"
The Chicco Sing-along Airplane is aimed at littlies aged 12 months and over has lots of features.
"There's a big red button on the roof which flashes when you press it and the picture in the front window changes and music starts to play," Kim tells us,
"There are four different pictures for the front window: an African girl with a lion, an Australian boy with a kangaroo, an Asian girl with a panda and a European boy with his puppy. Each child sings a little song about about where they come from."
There are all sorts of other bells, whistles and buttons to explore, Kim says that the actual aeroplane sound effect is brilliant (her personal favourite) and that her 14-month-old daughter has played with the Chicco Sing-along Airplane pretty much every day since they received it.
Kim did feel there was a downside however, the length of the pull cord.
"I think it is a shame the string isn't longer as my daughter can't possibly pull it along due to the length of string.
I can understand that due to health and safety they have to be so careful about the length of the string, in case of it being a strangulation risk, but it may have been better to have either made the string longer but put have a baby safe pull cord, which breaks into two pieces if too much pressure is put on the string, or to not have the pull-along string at all!
And finally...
So there you have it!
You can buy the Chicco Roly Poly Kitten and Chicco Sing-a-long Airplane from various places, such as Amazon, Kiddicare and Mothercare et al, but the prices seem to vary quite a bit!
Roly Poly Kitten is, at the time of writing, £12.99 at Amazon but £9.99 at babyequipmentcomplete.com.
The Sing-Along Airplane, has an rrp of around £24.99, is £20 from the toyshop.co.uk with Mothercare firmly in the parents' corner selling it (at the moment) for £12.49!
My advice to you is shop around if you're going to rush out and buy either the Chicco Roly Poly Kittern or the Sing-along Airplane, you could save yourself more than a few pounds.