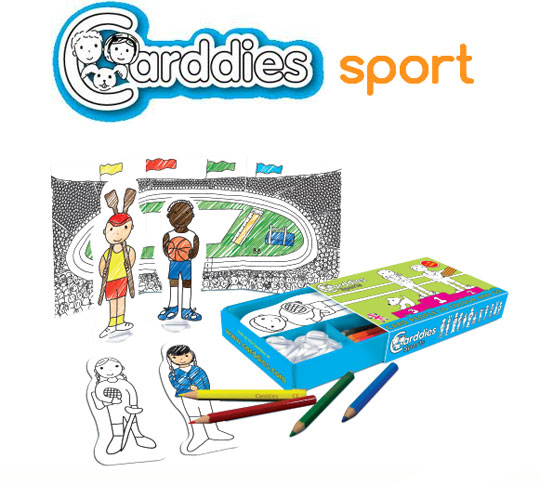 Isn't it funny how the things you think might not be enjoyed so much by your children can turn out to be BIG HITS!  This turned out the be the case with the Carddies Sports set that landed on my desk to review.
My youngest son (a whole six years old on Tuesday - much more grown up that being five apparently!) was disappearing off, with his dad, to spend the last half-term on the coast at his nannies house; you know what it can be like going away to stay somewhere else for a week, there's a fine line to be drawn between filling up the car with toys and games so there are plenty of things to do when you're wherever you're going to, or not taking enough activities resulting in you having a bored child on your hands *eek*
The little Carddies Sports set was duly packed off with them to play with whilst Edward and his dad were away, here's what they thought of it...
Carrdies Sports
The box is small - a little bigger than a box of long kitchen matches - and contains 12 hand-drawn sporty looking characters on thick white card,  coloured pencils to bring your Carddies to life, 12 plastic stands to stand them in and a hand-drawn sporty cardboard scene.
Simon was pleased that the Carddies box was so small, bearing in mind the amount it contained, "The Carddies colouring set is small enough to fit in your hand or a 'man bag', making them very portable and perfect for entertainment either on the move - long plane or train journeys, for example," he comments.
Once you've coloured in your Carddie characters and background scene, imaginative play can commence with abandon and you can have your Carddie sportsmen and women partaking in your very own Olympic Games or school sports day; the only limitations here is going to be a lack of imagination.
Simon notes that the patriotic and supporters of 'best of British' among you will be pleased to know that Carddies sets are manufactured 100% in the UK.
The Carddies story is a lovely one - they came about as the result of Raquel and her three children being stuck indoors during a particular rainy seaside holiday.  She drew little characters on the cardboard from cereal packets for her kids to colour in and they loved them.
Raquel then joined forces with her sister, Esther, and the Carddies business was launched;  between them they have seven children - the seven advisers who give their ideas for packaging and new characters - and Raquel and Esther still draw all the designs for the Carddie characters today.
It's a great story isn't it, especially as the Carddies range has become so popular and now boasts over 200 characters.
Both Edward and Simon really enjoyed the Carddies Sports experience, "We loved playing with the Carrdies, both the colouring and the making up games and stories with them afterwards.  I might even have enjoyed playing with them a little bit more than Edward," Simon confesses, "there is something about colouring that you never grow out of!"
Thinking outside the Carddie box, Simon and Edward also came up with another use for the 12 Carddie characters.
"If you should get fed up making up sports games for the characters to play, then you can use them for a game of 12-pin bowling - or 10-pin and two spectators -  simply arrange them in a triangle and bowl them over with a screwed up piece of paper."
A marvellous idea I thought!
And finally...
Simon and Edward give the Carddies Sports set a huge thumbs up and Simon absolutely believes that, at £8.99, they are fabulous value for money and would happily buy more Carddies sets to add to the Sports set.
"This is a great activity set easy enough for all ages;  enough pieces for several kids to play with at the same time and small enough to conveniently take it away on days out, long journeys and holidays!" Simon concludes.
I asked both him and Edward for an overall score out of 10 and they both gave a resounding 10 out of 10; Edward says I must tell you that they're, and I quote, "Awesomely AWESOME!"