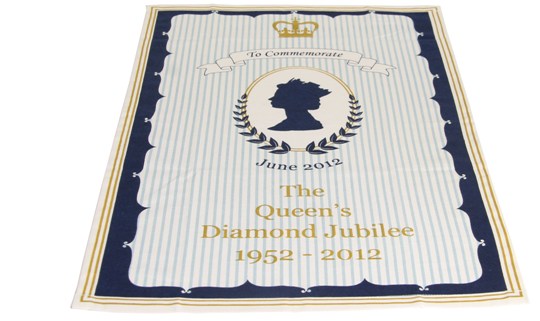 I recently discovered the ASDA range of products that have been designed to celebrate the Queen's Diamond Jubilee. They are really well priced and utterly brilliant for that extra dash of colour and splash at your street party.
The first thing I got was the Diamond Jubilee tea towel which has a lovely print on it. The Queen's head in the laurel wreath on a blue and white striped background and the motif: The Queen's Diamond Jubilee 1952-2012. The pattern only lies on one side, the other is white, and it costs £3 which is a spectacular price.
The tea towel itself is seamed around the edges for extra stability and can handle a wash of up to 40 degrees. It is pure cotton and has that lovely feeling that a tea towel should have, you know, that memory of cookies and baking and time in the kitchen with mum.
It comes with a hook on the upper end which is nice, it can hang neatly rather than irritate by falling off all the time, which some of my others tend to do. As a Diamond Jubilee expense, I would say that the £3 for this tea towel is good value for money, especially when it can be used for years or kept as a memento of the year and the celebration.
ASDA have a lot of products with the Diamond Jubilee motif or design on them and I am going to be reviewing two others – the commemorative mug and plate. They are also really well priced and I have to say that my Diamond Jubilee party kit is shaping up very nicely indeed!