Further Issues With The Cosatto Giggle Pushchair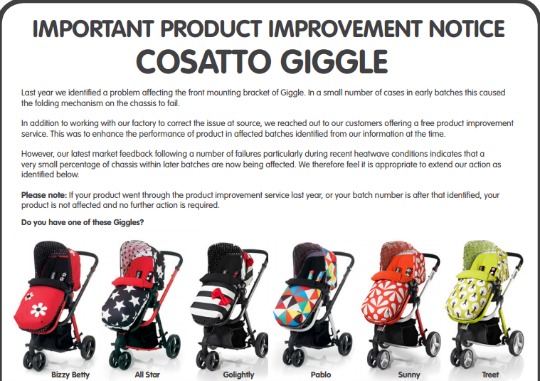 Do you own a Cosatto Giggle? Last year, on BBC's Watchdog it was exposed that Cosatto's bestselling pushchair had a very dangerous fault with the chassis.  It would appear that there's more pushchairs affected than previously discovered. Yesterday, I received an email from Cosatto as I had registered my very own Cosatto Giggle late last year.
Here's the jist of what the said....
We see that you registered a Cosatto Giggle under our 4 year guarantee. This is just to let you know about an Important Product Improvement Notice and what you might need to do.

If it is, please follow the instructions provided to arrange for us to carry out the important product enhancement. If your Giggle has been through the product improvement service already your product is not affected and no further action is required.

We're really sorry if you are affected. We know it can be frustrating when these things happen but we promise we will all work as hard as we can to get you back on the road as fast as humanly possible!
Now, they have worded this like they are doing us Cosatto customers a favour but I had a telephone conversation yesterday with a Cosatto Customer Care worker, and he confirmed that they urge customers to send the chassis back in as it is possible that some have safety issues with the chassis.
I don't wish to slate Cosatto because I have had no problems with other baby equipment manufactured by them, but here at Playpennies we thought it was a good idea to share this information with you all. Afterall, some of you may not have registered your pushchair and will be unaware of these on going issues.
The bottom line is you must visit the Cosatto Giggle page to recheck your chassis number and the site will prompt you on what to do next if your pushchair is affected. Even if you have checked it before, it's worth doing again as Cosatto have confirmed that previous "satisfactory"  batches are potentially faulty.
I was advised from Cosatto that some people may be able to get a loan chassis whilst their chassis is being "improved". However, these are not always available. An alternative method is to contact the place of purchase, where they may arrange a loan pushchair and the altering of the chassis with the manufacturer.