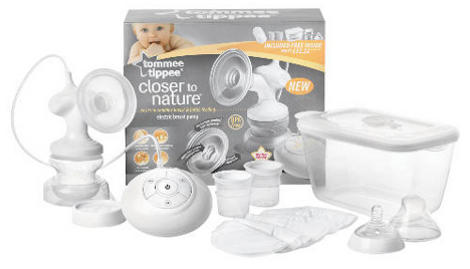 The popular Tommee Tippee Closer to Nature Electric Breast Pump offers reasonable value considering it is frequently on sale, but it does come with a few drawbacks too.
The sleek design makes it a 'pretty' pumping system, and the four speed control is simple to operate. Compared to other pumps I have tried, it's relatively quiet too, allowing for discreet, although not secret, pumping.
There are two big disadvantages, though. First, the air pipe connects to the area the milk flows through before dropping into the bottle, and if the pump is held any other way than the one instructed in the manual, milk goes up the pipe and into the electronics. You then have to unplug the air pipe and blow the milk out the other side, which isn't great for hygiene. As a one-off it's no big deal, but having to do it three or four times a session because you're also juggling a child and so aren't holding the pump exactly right quickly becomes annoying.
The second, bigger problem I found was that the silicone shell – which ironically is meant to mimic a baby's natural feeding action – somehow prevents any expressing. After ten minutes of pumping I had dishearteningly less than an ounce of milk. Once I removed the shell and just used the hard plastic cup, I filled almost five ounces in the next ten minutes.
The pump comes with a feeding bottle with a slow flow teat, a milk storage lid, milk storage pots, breast pads and a handy steriliser box that doubles up as a carry case or storage container for all the bits.
If you can work around the issues, this is a great pump – especially at sale prices – and if you're only looking for occasional use it shouldn't be too bothersome. For a daily use pump, however, I'd pay a little more for something needing less workaround.