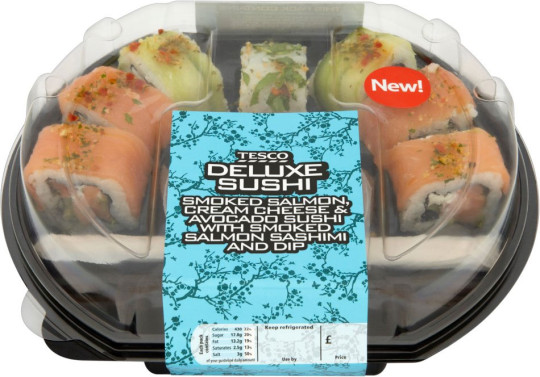 I love sushi. There's something about sitting on a terrace with the balmy evening warmth kissing your skin, gorgeous wine gliding down throat and the smell of herb shrubs permeating the air that makes me want to eat raw salmon by the bucket full - experiences I've had in both South Africa and Australia. Despite sushi not being a pregnancy safe food, it's all I craved, and in fact all I could keep down during my pregnancies too, so sashimi especially, is a definite favourite for me, and since before their first birthdays, both my girls would steal the slippy fish off my plate. I love sushi. If, like me,  you love sushi, you might be tempted by the new range of Tesco Sushi.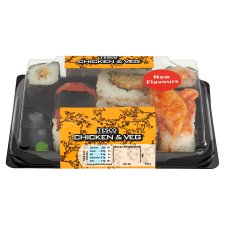 I was, and here's how I got on. 
First, I must be honest and say that Tesco sushi isn't quite the same as described in my walk down memory lane. For a start - and what makes it great for food on the go, and for pregnancy safe food - is that there's nothing raw to it. All the fish is smoked or cooked.  This is also great for 'faux sushi' for people who are totally turned off by the thought of raw fish.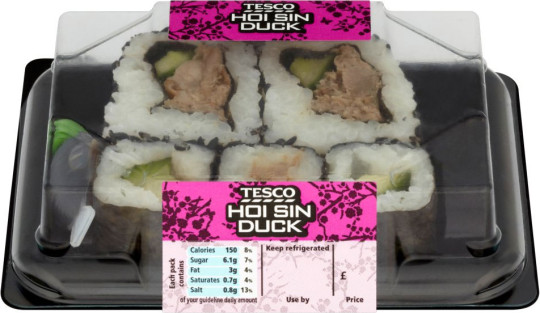 Not only do Tesco have some traditional sushi dishes, like salmon nigiri, or calfornia rolls, but there are also some totally unique and unusual flavour combinations.
My favourite of these come in the Salmon and Veg Sushi Snack box (£1.35) which contains 2 smoked salmon sushi 'sandwiches', a mixed sweet potato and chive temari ball, a chargrilled red pepper and sesame seed temari ball and a herb (it's dill, I think) temari ball. They're not flavours I would normally equate with going out for  sushi, but they are great.
Another favourite for me is the Hoisin duck that pops up in some of the boxes. There is a Hoisin box, but some of the other boxes have one or two in them too, and they are beautifully moist, and tasty. There's also a good amount of filling-to-rice ratio which is fabulous as that's often a problem in ready made dishes.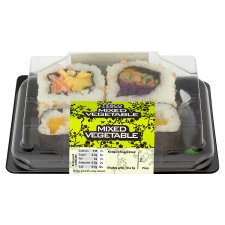 For those who are really not into fish, but don't want to miss out on a Sushi snack, there's the Tesco Mixed Vegetable Pick & Mix Sushi which looks like sushi, but is only filled with vegetables. That was tasty too, but I prefer fishy sushi. Nothing wrong with it though.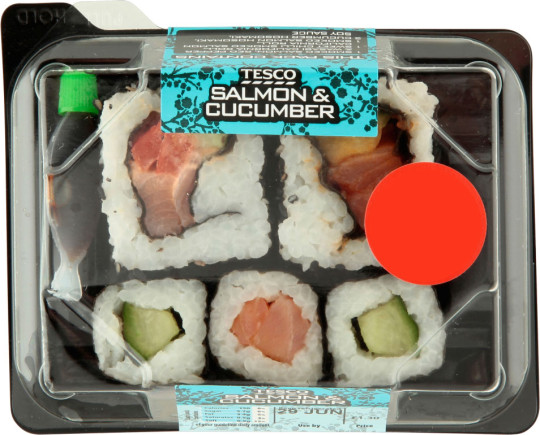 I had a friend over for lunch when we had our sushi, and she is allergic to shellfish. She was saying that something that really bothers her about these prepacked boxes is that they normally will always have at least one piece of prawn or shrimp in them, which means she can't have any from the whole box at all. I am not a fan, really, and had to agree with her - whenever I've bought supermarket sushi, it's hard to find any without shellfish in them. Well, that's different now. Most of the Tesco sushi boxes don't have prawn in them, and I'm not even sure I saw one with shrimp, thought there might be some. This is really great news for anyone who loves fish, but can't go near shellfish. My friend was quite excited, actually.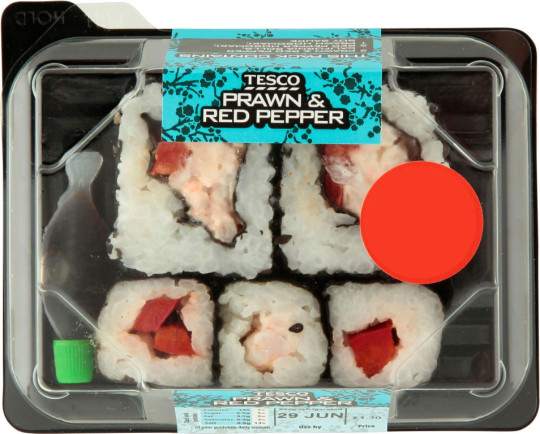 Something I thought was actually really good was the price of the sushi packs. The small packs were £1.35 or £2 for 2. The larger ones were £3.30. We had a £10 voucher to spend on sushi and I was quite surprised that we were able to feed two adults and two children for that amount. (We added some garlic dough balls too, but not part of the £10).
The small boxes don't come with wasabi or ginger, but they do come with soy sauce, and the bigger packs come with all three.
The Good
Fabulous price point, especially if you compare it with fresh sushi
Easy on the go lunch
Good snackable portions
Great for pregnant people, great for people who don't like fish
Really good options for people with shellfish allergies*
The Bad
Well, it's called sushi, but it's not really what I would call sushi. I mean, it's great cooked sushi - the best I've had from a supermarket, for sure, especially the fact that they provide shellfish-less options, and a bunch of different flavour varieties too, but to me sushi is melt in your mouth salmon and tuna. This is not that. Doesn't make it bad though.
The Verdict
I think these are great sushi packs, for an easy and seemingly healthy and light lunch. The kids wolfed them down, and £10-worth fed us all. They're great for on the road food as there's no crumbs everywhere, and they are fabulous if you're sitting at your desk or want a quick and healthy lunch.
*I'm not sure about factory conditions and cross-contamination. Use your discretion here.