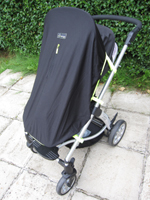 I had the opportunity to review the SnoozeShade, a universal blackout buggy blind! Over to the right is a picture of the SnoozeShade in action, on my pushchair.
When I first heard of it, I thought it was a good idea, because my little one falls asleep in her pram all the time.
Here is a small blurb about the product itself:
SnoozeShade is a unique blackout blind for prams, carrycots, pushchairs and buggies (in flat-lying or upright modes). This innovative baby sleep product was created by a British mother specifically to help babies and toddlers sleep for as long as needed in a pram or pushchair.
I took the Snoozeshade out of its bag, and noticed that it seemed to be made out of a dark porous material, a bit like football jerseys. When you put it over your buggy, it still lets the air through, and it wouldn't heat up a lot in there.
It fitted on my pram with ease - I have the Sola pushchair. I simply draped it over the top, pulled the elasticated sides the whole way around, and closed the Velcro fasteners around the frame of the pushchair. Simples!
The Snoozeshade still had a bit of give in it, meaning it would also fit on larger buggies and prams too.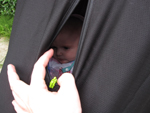 I really liked the little zip at the front middle - it's a little access point which is about 6 inches long, so you can peep in and see if your baby is doing well - you can see this pictured in my image on the left, with my little baby girl in there.
The SnoozeShade comes in a handy mesh bag, and I was able to fold it up and pop it back in the bag with ease, once I was finished using the SnoozeShade. When I had first opened the snoozeshade, one of my concerns was that I wouldn't be able to get it back into the bag - but it wasn't a problem.
I think the Snoozeshade would be very handy if you are out and about with baby quite a lot. I think it would be especially useful if you are going away on a sun holiday with a young child - you could pop the Snoozeshade in the buggy, and use it to keep baby in the dark if they need a little afternoon nap, while you're off having your tapas and paella!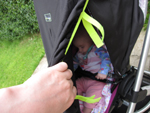 Remember, if you'd like to buy a Snoozeshade, we have an exclusive PlayPennies SnoozeShade discount coupon code for 10% off and free shipping here.