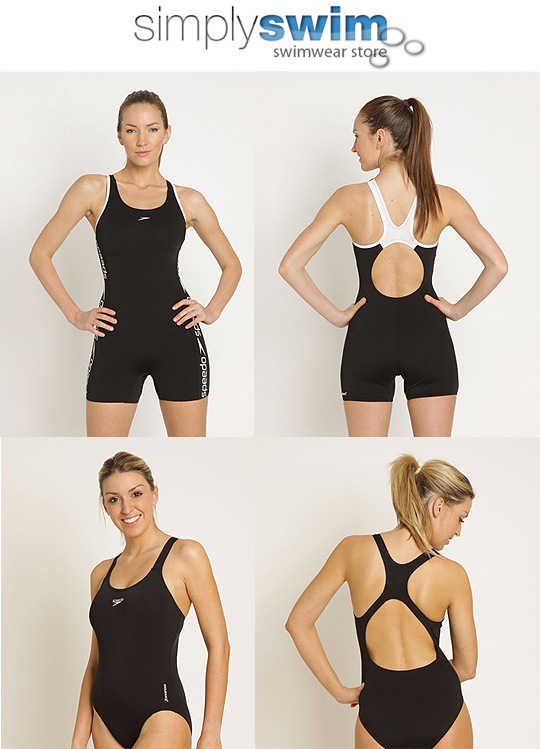 There are few items of clothing that can strike as much fear into the heart as the swimming costume!  This seemingly benign piece of beach/swimming attire has the power to reduce even the most confident woman to tears and transform her into a nervous wreck.
Never, EVER buy a white one to swim in - just don't, I only made this mistake once and, in my defence, I was very young but when I realised everyone could see everything through my, now, transparent swimming costume I just wanted to die on the spot. Since then it's been BLACK swimming costumes all the way.
If only buying a swimming costume were a simple process, life would be so much easier!  Of course, I'm only talking about one-piece swimming costumes here, not bikinis - they come with thorny issues all of their own!
I used to spend a lot of my time in the water - I was a member of the British Sub-Aqua Club and also the British Canoe Union and lived and died in a swimming costume for years.  It only became a nightmare after I'd had kids and my body shape had changed from slinky to....not quite so slinky (at the time).
Simply Swim UK sent us two Speedo Swimming costumes to review; we gave them to Tamsin to put through their paces and hopefully we'll be able to take some of the pain out of swimming costume choosing for you.
Speedo Endurance Plus Medalist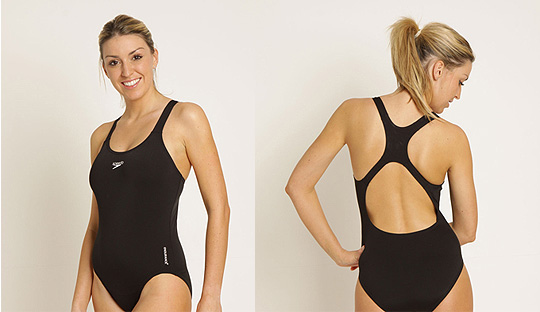 If you're after something classical and black - yes, yes, black is GOOD; black is your friend, black is slimming too (I heard this in the voice of Gollum from Lord of the Rings; I'm not sure if I should be disturbed by that to be honest!) - then you're going to really like this Speedo Endurance Plus Medalist costume.
It has a medium leg cut, so you don't have to worry about exposing more of your bottom than you intended (oh goodness, the horror of it all is flooding back!) and the official blurb states that it's a great costume for swim training or fitness training.
So whether you're intending to go swimming to get fit/lose a few pounds and shape up or be in the pool with a little one for early lessons, that involve lifting them in and out of the water and all sorts, then you can be assured that everything which should stay covered will stay covered.
Here's what Tamsin had to say about the Speedo Endurance Plus Medalist...
"This is a classic costume that's ideal for the not-so-slim swimmer.  It is cut to make sure you still look good in a tiny sliver of stretchy fabric so you won't be put you off getting your exercise regime started."
Tam' also reported that the Speedo Endurance Plus Medalist costume is incredibly comfortable and very easy to take on and off.  It also dries fast too and she really loved the back detail - I must say, the back styling caught my eye too.
The Speedo Endurance Plus Medalist retails for £17.
Speedo Plus Superiority Leg Suit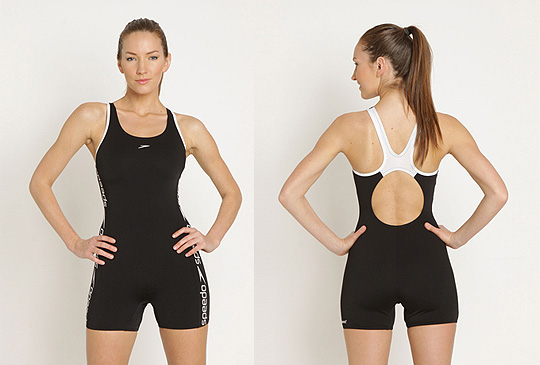 Now, if you have been putting off swimming because you've got stretch marks or other scars that your self conscious of, then this is going to be the swimming costume for you.
The Speedo Plus Superiority Leg Suit is a one-piece that has legs which extend to the same sort of length as bicycle shorts; my mum has a swimming costume that's very similar, she says it's GREAT because it removes the faff of having to 'tidy up' (if you get her drift) before heading off to the pool and I'm all for THAT!
Of the two Speedo costumes sent to us by Simply Swim UK, this was the one that Tamsin liked the most; in fact, she didn't just like it, she LOVED it.
"I have been without a decent costume for about seven years," she says.  "In fact, in spite of swimming regularly, I have been wearing my maternity costume for that entire time. Not because I am fat, but because I can never find a decent costume."
Tamsin goes on to say that she doesn't want to wear a tiger print with sparkles (I can't imagine why not!) and laments the usually inevitable revealing of more bottom cheekage than you intended.
"I just want to SWIM!" she rants, "which is why I love this swimming costume. THIS is the one I use to swim in the sea too, I feel much happier knowing that NO crab or curious fish can get anywhere near anywhere I don't want it to, thank you very much!"
Tamsin tells us that the Speedo Plus Superiority Leg Suit is also extremely comfortable and easy to get into.  Not so much to get out of though apparently, "but that's hardly a design flaw and more of a lots of wet fabric inevitability thing," she admits.
"I really do love this costume," concludes Tamsin, "I feel like an Olympic athlete zipping about in the pool and when I do swim in the pool wearing it, I don't have to worry about what anyone following me underwater may or may not be able to see!"
The Speedo Plus Superiority Leg Suit retails for £30.
And finally...
We all feel that both costumes are very reasonably priced, especially when you consider they're made by Speedo - such reputable and quality brands often charge a premium for their products that tend to make you wince a bit, both these prices do not.
There's nothing frilly or fruffy about these swimming costumes - they have been designed to swim in, not pose in and as Tamsin says, "These are REAL costumes!"
Both are chlorine and fade resistant, dry quickly; standard delivery will cost you £2.99 and will take between two and four days, if you need it sooner than that the you can pay £4.99 for it arrive between one and two days.
By the way, if you do happen to be a fan of the frilly, patterned costume then Simply Swim UK can help you out with those too!