Today I'm treating you all to two reviews for the price of one! How's that for a bargain, eh?!
First up, which laundry detergent do you use? I know some folks who swear by one

single brand and who would never dream of being disloyal, and others who prioritise price above all else and who shop around to get the best deal on their detergent, with little regard for who makes it or what the label looks like.
I was raised a Persil girl but I'm happy to shop around for whatever's on offer and have found that Asda's own brand of detergents are pretty good. It's amazing, isn't it, how brand loyalty changes when you become a parent and you find yourself doing a zillion more loads of laundry than ever before?! Having once suffered an allergic reaction to another brand, I do feel I can trust Persil's Non-Bio  version of detergent and if I'm buying Persil I usually opt for the squidgy caplets which seem to do the job.
But when someone recently asked me to sample Persil Small and Mighty for the purposes of this review, I'll admit I was a bit dubious.  I'm perfectly happy with my usual Persil caplets so couldn't really see the point in another Persil option. I've always thought the product seemed on the pricey side for what seems to amount to a smaller bottle, too. In other words it was with some reluctance that I tried out Small and Mighty but I admit; I'm a convert.
Persil Small and Mighty is 2 x concentrated. That means it's kinder to the environment as it uses half the water, half the packaging and half the lorries used to transport

the product compared with regular non-concentrated washing detergents; supposedly without compromising on the quality of the wash.
I'm told (by Persil, of course) that since its launch, Small & Mighty has saved 91 million litres of water in Europe alone, enough to fill 605,000 bath tubs. The plastic saved is the equivalent to the amount that would be used to make 590 million plastic bags.
It's available in Biological, Non-Biological, and Colour Care varieties, and is made with pre-treating agents so you can still get good results at low temperatures.  The easy-to-use, no fuss measuring cap is also designed to help ensure correct dosages, to help keep your wash load efficient. I like that, and loathe cheaper alternatives which are impossible to use without dribbling wasted drops of detergent down the sides of the bottle.
I think Persil Small and Mighty actually lives up to all that hype, too. I tried it on a low temperature and a short, economical wash and even my son's grass-stained trackie bottoms came out looking clean, and smelling divine. It has that unmistakable Persil whiff of wonder that I associate with piles of deliciously fresh laundry. So if you're looking for an economical option when it comes to laundry detergent I can happily recommend giving Persil Small and Mighty a go.
I've revised my thinking on the price, too. I've just checked the price an
d it's currently £6.84 at Asda for the large 1.47 litre bottle which is enough for 42 washes. Compare that with the £5.98 you'd spend on Non-Bio liquid capsules which will stretch to 20 washes, and you can see that Small and Mighty is the more economical option of the two. The small bottle is deceptive and you need to remember that the concentrated formula means it goes further.
However there are cheaper detergents out there, it has to be said. Asda's own alternative is more than half the price at £3 (although it only promises 28 washes) but admittedly two bottles of Asda's version will set you back less moolah but get more washing done than Persil Small and Mighty. But whether it performs as well as Small and Mighty is another issue, and of course in buying two bottles you've got twice the packaging. I think I'll be inclined to stock up on Small and Mighty whenever I spot it on offer at my local supermarket. I probably wouldn't choose it over another brand if the other brand was on offer but as a reliable, eco-friendly and economical option, Persil Small and Mighty gets my vote.
Now talking of economical consumer choices, wouldn't it be brilliant if you could buy a single cup to take your baby from weaing right through to toddlerdom without having to shell out on several different cups for each stage of development. You know what I'm going to say, don't you: now you can.
Brother Max was created by Jonathon, a product designer and dad of two. The idea

for the products came from his first hand experience of being a dad and wondering why there were so few products available that would make the family's life easier and quicker so that they could focus on the important things in life, like playing with the kids!
Cue an innovative range of products, including the 4-in-1 cup which strikes me as a revelation in baby cup design. It converts in 4 ways, cutting out the need for different staged cups, therefore saving money in the long run.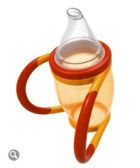 Assuming you don't leave it in the park or something, the cup is great value and will theoretically reduce the number of cups you'll need as your little one progresses and develops.
Because a baby's wrist and arm has less control and their cup often misses their mouth, this cup has been designed to lean forward at an angle to make drinking from it easier. It also has a big sipper ring to drink from to reduce the mess that comes with learning. The cup is also slightly smaller than average so it's not too heavy for little hands and arms. The cup can be taken apart and washed in a dishwasher or steriliser.
We tried the cup in its 4 different mutations, on four different children! The weaning cup with teat and handles was brilliant, and the babe in question wouldn't let go of the thing when it came time to try it out on someone else! The handles were really great for encouraging her to hold the cup by herself. The second stage - without the teat - was equally practical and we could imagine that a baby would cope well with this stage if she/he was already familiar with the cup in its weaning stage - meaning it could be a better option than moving from one weaning cup to another at the stage where it's time to get rid of the teat. The third stage - weaning cup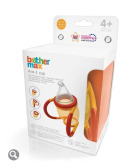 without handles - seemed a wee bit pointless to us as as all the kids we tried the cup on adored the handles - but it makes sense that they'll need to learn to use a cup without them eventually. At the 4th stage - a proper cup with sipper ring - most kids had lost interest (they really loved those handles!) but when that time comes the cup has probably served its purpose.
The RSP is £5.99 and it is available at John Lewis, Mothercare, Kiddicare.com, Amazon.co.uk, Blooming Marvellous, JoJo Maman Bébé and leading independent nursery retailers.