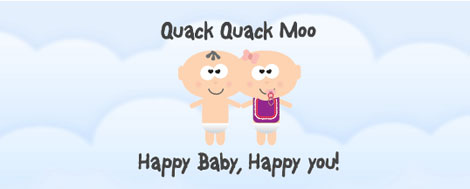 Quack Quack Moo got in touch with us recently and asked if we'd like to review some of their products.
Quack Quack Who?! was our first reaction, but with a name as great as Quack Quack Moo we had to find out more.
Quack Quack Moo is a company started by a frustrated mum and designer, Leanne, who'd had enough of big named products not living up to expectations and letting her down (I know THAT feeling); she decided she could do better, so went out and did.
The basic business principle is simple, to provide...
...clothing and accessories which not only look great, but are practical, unique and designed to make your life that little bit less stressful.
Anything that promises to do that, AND can deliver, would be proclaimed most definitely WORTHY in our book; we were all looking forward to hearing what our PlayPennies mum, Amelia, thought about the items we sent her from Quack Quack Moo.
"Upon opening the  packet of items from Quack Quack Moo, I was immediately struck by the cow print pattern," Amelia told us, "it makes these baby accessories pretty unique and fun!"
Amelia began sorting through the various items with some being easy to identify, like the Dribble Bib and the hooded blanket but others weren't quite so, "I had to look at the included leaflet to figure some of them out," Amelia confessed.
Amelia's daughter is just coming up to a year old now and she found the Dribble Bubbs Lap Bib (£12.99) very useful.
"The Dribble Bubbs lap bib was one of the items that I couldn't originally identify," said Amelia.
"But I found it on the Quack Quack Moo website and realised how to use it. It's something that's very handy actually, because I sometimes find myself tucking a tea towel around my little girl's lap to catch errant crumbs."
My youngest has a habit of dropping things in his lap still, he's almost five, so I can see the lap bib being something Amelia will be using for years to come.  Tea towels on the lap do an ok job but they fall off and they aren't waterproof.
The Lap Bib has a waterproof protection guard  with layers(that's the Dribble Bubbs technology bit) so liquid is absorbed and dries quickly, allowing your young one to stay comfortable and keep their laps free from half their breakfast, lunch or dinner.
It also fastens around the waist and poppers up at the back and is made from Organic Bamboo Cotton towelling which makes the Lap Bib is naturally anti-bacterial.
Having babies is a messy business so included in Amelia's parcel was a Quack Quack Moo Shoulder Chuck (£12.99)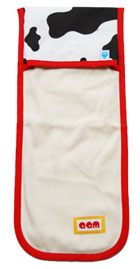 "Many a time have I had a stream of vomit rolling down my shoulder blades," Amelia recalled, "thank goodness my babe is a little older now!"
Even though this meant Amelia wasn't able to properly roadtest the Shoulder Chuck, she did say it looked, and felt, as if it would be more than up to the job.
"It's pretty thick, so wouldn't let the liquid seep through to your clothing. It's even got a "trough" at the back to collect runaway liquids!"
The Shoulder Chuck, like the Lap Bib is waterproof, quick drying and naturally anti-bacterial.
The dummy fastener and the dribble bib, that we sent Amelia, were two of the items that she easily identified and their use is self-explanatory.
The dummy fastener is called the Length 'n' Loop (£2.99) and, whilst it may be very basic, is something I found very useful when my youngest was small.
No more dummies being spat out onto the ground of falling down the side of the bed to join all the other lost dummies for a late-night dummy party!
The dribble bib (£7.99) is also an essential piece of baby kit - multiple dribble bibs in fact - for drying dribbly faces and prevent them from becoming chapped.
It's amazing how quickly a damp chin can turn into a very sore one, it will also keep the chin and chest area of their clothes dry too.
The dribble bib has the Quack Quack Moo cow print back and is naturally antibacterial as well; it can be thrown into the washing machine and tumbledryer and also has a little fabric loop for attaching a dummy fastener to.
We sent Amelia a seat protector (£24.99) that you can use in a buggy or car seat, or any other seat that might need protecting for that matter.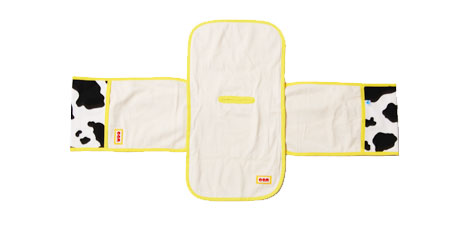 "The seat protector was one of the most intriguing items that I received from Quack Quack Moo.
It's incredibly useful and is very soft to the touch as it's made from their organic cotton bamboo towelling," Amelia explained, "and it also has that funky cow print on the back."
The seat part of the cover sits on the seat to be protected and it has a flap on either side that go over the edges. The flaps have pockets in too so you can pop bottles, bibs and other bits and pieces in there when they're not being used.
The last Quack Quack Moo item was Amelia's favourite; a hooded blanket (£14.99).
"The hooded blanket I received was purple with a pink trim, made from an incredibly soft fleece, and it is GORGEOUS to run on your face," gushed Amelia.
The hood can be attached and detached from the square blanket by a couple of studs, so there'll be no more hats blowing off in the wind into muddy puddles; hurrah, because that's a real menace.
It's safe to put in the washing machine and zap in the tumbledryer (if you have to) but being fleece it should dry pretty quickly on the line or over a radiator - warm or not!
"The last few days have been sunny but breezy here, so it's been perfect for using when out and about," concluded Amelia.
And finally...

Amelia was very impressed with everything from Quack Quack Moo, she felt they lived up to their claims and the prices were fair too.
The website is very easy to navigate and there's a lot of interesting company 'mission statement'  information there too, for those of you with enquiring minds or just want to see the faces behind the site.
The final word to Amelia, "A couple I know is totally obsessed by cows, with a lot of cow-print paraphernalia round the house," she explained, "They've just got married and we're hoping they get on the baby making program soon so we can gift them some Quack Quack Moo items!"