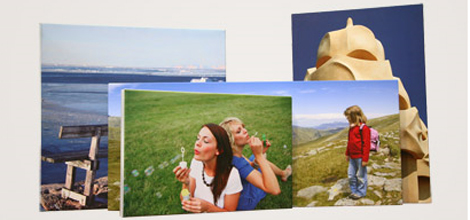 Canvas prints seem to be very popular these days. Almost everyone I know has one. So I had to have one too! I recently printed a picture of my new baby daughter, using the canvas prints from Photobox. It's a  30x40cm rectangular premium canvas print, a decent size for the wall.
When ordering, you can choose the various sizes, right up to over a metre! I was tempted to order three small square prints to go in a row on the wall, as that seems to be a trend nowadays. However,  I couldn't find three images that I liked as a collection, so I just opted for a slightly larger rectangular canvas print. I choose an image of my daughter in her sola pushchair, as it is nice and bright, with vivid colours. You can see the final product pictured at the bottom of this review.
The ordering process was pretty fast and easy, I only needed to select the quality of canvas, canvas size, and upload my image. You can rotate and crop the image too, if needed.
My photo canvas looks fab! I showed it to my mum and sister, and they were really impressed at the colours and the quality. The image itself is very sharp, even though it is printed on canvas. The frame itself is solid and sturdy, and of a very good quality. The workmanship is of a very high standard, and I would really recommend Photobox to anyone who wants a canvas print made.
I was slightly concerned about one point though - the sides of the frame had a white border, rather than the image wrapping right around to the back of the frame. I had wanted it to be fully wrapped, as you can see in the examples at the top of this review.
Customer services actually gave me a call after I put in a query about the white trimmings. They explained that they use their judgement and if they think that the subject will be adversely affected by such image wrapping, they'll leave a white border on the canvas. I said that I hadn't seen this explained anywhere during the ordering process, but they assured me it was there. Now, going back and doing another test order to see if this is true, there is a line towards the bottom of the canvas prints page, stating this:
Your photo is automatically wrapped around your canvas unless we feel it would work better with a white border.
So, while I feel that the canvas is pretty excellent, I am disappointed in myself for not choosing a better photo, which would have been able to show the image wrapping round the sides of the canvas. I recommend you carefully choose a photo, making sure your subject is well in the centre of the image.
There are of course a lot of options to choose from if you want to get a canvas print done. Another option is Jessops, and Tamsin wrote a review of their canvas prints here.
Have you had canvas prints made? Who did you use, and would you recommend them?