The Maclaren Grand Tour LX is a very luxurious pushchair. It is suitable from birth with a cosy cot, and can be either forward or parent facing – my favourite feature.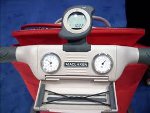 This pushchair comes with plenty of add ons. There's the rain cover and sun shade – nicely hidden in pockets behind the seat, a large basket, a foot muff, and matching nappy bag... all pretty standard. But then there's the remote safety lights, pedometer, temperature gauge and built-in clock. The 'dashboard console' also includes a handy storage space for a mobile phone – although my Blackberry Storm didn't fit.
The pedometer – or strollometer – is useful if you're using the pram for exercise, which is sort of the point of this pushchair. Maclaren and Pushy Mothers have worked out a whole exercise programme to accompany it. Which is also why it comes with a clip on cup holder for your sporty water bottle.
The cot has a storage bag, the wheels have Formula 1- style wheel bags and there is a bag that covers the chair and frame too, although this doesn't seal, which I found unfortunate as it means it can't lock. I had my temperature gauge and clock stolen out of the dashboard during a recent flight, so the ability to lock the bag would have been great, in retrospect.
This is an extremely luxurious buggy. There's nothing that hasn't been thought of. The wheels can be locked or swivel, the headlights are bright, the seat is plush, and can recline for a sleeping toddler, the pedometer works well. It is definitelythe most luxurious pram I've ever used.
But...
It is a massive pushchair. It weighs 17.2kg and is 65cm wide. It folds, but still takes up most of the back seat of a normal car. You can get it up the stairs, but need a tea break after.
If you're after something zippy, this isn't it. If your baby will be spending a lot of time in their buggy, or you're walking a lot (and love your gadgets) this is it.