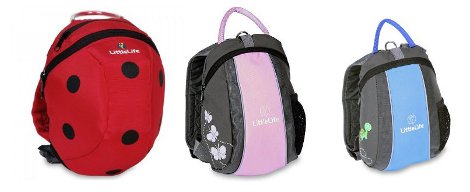 I have a confession to make. I leash my child. I always said I wouldn't. I said leashes are for dogs. I said my child is not a dog. Then I lost my 8 month old on a pavement at the Arc de Triomphe in Paris. My heart stopped, my hair greyed, I saw milk cartons flash before my eyes, and I dug out the restraint I'd disdainfully buried when I received it as a new baby gift.
The LittleLife Toddler Day Pack, which we have, is a little back pack, large enough for a few toys. You could use it for a nappy and some wet wipes, I guess, but we've made it our daughter's bag. It generally holds a wooden musical instrument, a soft toy, a baby picture book and some finger puppets – perfect entertainment for a day out, in the car or on an aeroplane.
The backpack is well made, the butterflies that decorate it have not scratched or peeled off and the little net pocket is – well, decoration. It's not big enough for a bottle or anything other than perhaps a piece of paper with contact details and a few notes, or perhaps a few biscuits.
The straps go over the shoulders and there's a clip in front to secure the bag to the child. There's a strong clip that clips to a metal ring on the bag, which is attached to strap attached to a material padded ring for the parent or guardian to hold on to.  LittleLife have a range of lovely harness bags. There are normal backpacks like this one, then there are animal bags – turtle, cow, butterfly and ladybird.
I don't use it all the time, but when I do, I am happy in the knowledge that my 13-month old can run around, explore and experiment with her world, without my stress levels spiking. Most of all, I love the fact that she doesn't really 'know' that she's being restrained.