JoJo Hide And Seek Review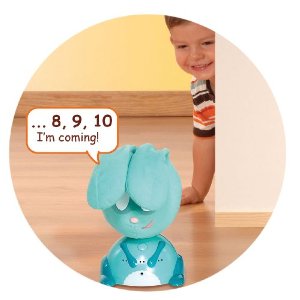 I don't know any child who doesn't like to play Hide and Seek; I STILL like playing Hide and Seek so there was much excitement in the PlayPennies office when we were sent a JoJo Hide and Seek  interactive electronic bunny!
However, we couldn't keep him so off he went to Kim's for her and her little one to play with - here's what happened.
The parcel containing JoJo arrived just as Kim was heading off to her friend's house for the day, both their children are aged 13 months old and, like us in the PlayPennies office, both Kim and her friend couldn't wait for the kids to play with it.
"It took us about 20 minutes to actually get the toy out of the box. It is fixed into the box with about six of those annoying plastic and wire ties," Kim told us.
I loathe those plastic tie things!
"Not only that," Kim continued, "they have knotted them which means you can't just untwist them as normal, you end up trying to cut them without catching children or JoJo."
JoJo is a blue bunny, full of electronic gadgetry, who will come and find you when you hide from him.  He can do this because you hide with a carrot, also full of electronic bits and pieces, which allows JoJo to locate you.
Having successfully completed the plastic tie challenge, Kim and her friend moved on the next one - batteries!
"Once you've got JoJo out of the box you then have to find (or go out and buy) some AAA batteries for the remote control carrot.  They have supplied the batteries for JoJo but not for the carrot. As you can't play 'hide and seek' with JoJo without the carrot..it seems a bit silly to not supply them in the box."
This struck us as rather strange too and VERY frustrating, especially if you have little kids trying desperately to stay calm and patient when all they want to do is PLAY with their new toy.
All in all it took Kim half an hour to get JoJo out of the box and find suitable batteries for the carrot; now they were ready to play hide and seek, hurrah!
Only, there were no hurrahs being uttered from our intrepid JoJo testers...
"We couldn't wait to play hide and seek with JoJo but the thing is...he hardly seeks you out!  You need to place the carrot remote sensor on your child's waist (via a belt clip) or they can hold it. The carrot needs to be held no higher than 1 metre from the floor and..." and then Kim proceeded to tell us about all the procedures that must be followed to ensure correct carrot holding!
In addition to the not being held higher than one metre from the floor, the pointy end of the carrot must also be pointing down towards the ground at all times otherwise JoJo won't be able to pick up the signal.
"Also the player can only hide within 4 metres distance from JoJo when he is trying to seek, and it mustn't be a complex path for them to be found either.  AND all of this (non)seeking needs to be within the same room, " continued Kim.
Oh dear, so things hadn't gone smoothly up to this point...they didn't get any better either.
It turns out that JoJo isnt a fan of thick carpet; so with the wrong carpet and titchy ones too young to master correct carrot carrying, Kim and her friend took over.
"We followed all the instructions but all JoJo does is roll around a bit whilst talking (in a very annoying voice..sorry but it is true!)  and then he tries to locate you.  Except he couldn't pick up the carrot signal and so he tried detecting us by us shouting and clapping."
Eventually JoJo gave up looking for Kim, would stop over a metre away and declare that he'd found her!  Kim was a little more persistent...
"We played with this a couple more times just so we could make sure we were not doing something wrong...but it seems that JoJo was functioning properly. "
Kim really was very disappointed, "We were expecting more from him. In the leaflet it says that JoJo 'finds you' when he is within 50-70 cm of the carrot...but in our case this didn't seem to be true"
The concept sounds fun - your hide and seek partner is a cute little bunny who waggles his ears. You run away and hide and he comes to find you, saying things like, "I'm getting warmer!" and "I can smell a carrot!" the closer he gets, until he does find you and then all he wants in return is a hug.
JoJo Hide and Seek retails for £39.99 which is a lot of money for something that doesn't do what he's supposed to.  Worried that it was just her, Kim showed JoJo to lots of other people...
"I have shown JoJo to everyone who has visted me, in the hope they'll convince me I'm wrong and that actually he's wonderful, but I'm sorry to say everyone felt the same as me."

Kim didn't find the icons on the packaging very helpful either; there are three of them.
The first logo is of an adult and child, which could be taken to mean that it's for ages one year or older, or more than one player, or parental supervision is needed.
None of us have a clue about the second icon - it's a picture of a clock indicating 30 minutes,
"The instruction leaflet says that each game lasts three minutes and JoJo either finds you and congratulates himself or he doesn't find you and congratulates you for being a good hider," Kim told us, "but JoJo only plays three consecutive games of hide and seek and then he turns himself off, so that second icon can't mean that the game lasts for 30 minutes." Maybe it's telling you how long it's going to take to get out of the box...

Kim has us laughing with the third, less than helpful, icon on the box, "The third icon looks like two people carrying a box and then the number one underneath the icon. This could mean that it takes one person to lift the box...but I think you might have guessed that without the logo!"
And finally...
JoJo Hide and Seek really didn't win over the hearts of Kim and her child.
"JoJo looks cute and appealling for children, the idea is great but it doesn't actually do what it's supposed to, therefore I can't recommend buying it, I'm sorry. If it was cheap, at say £10 or £15 it would be worth it as a novelty present but £40 is too steep."
If you have wooden floors, can absolutely comply with correct carrot procedures and don't mind if JoJo doesn't always find you, then perhaps you won't be as disappointed as they were.
If you want to find out then JoJo Hide and Seek is available from Argos, Play, Amazon, Hamleys and Harrods.