Johnsons Baby Top-To-Toe Bath Review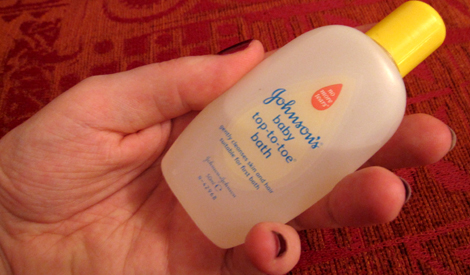 When I had my new baby girl a few months ago, I hadn't bought any skincare products to bath her in. There seemed to be a load to choose from on the market, so I didn't make a decision at that point. When I was in the hospital and had just given birth, the nursing staff offered to bath the baby and show us how to do it. The nurse used this Johnsons Baby Top-To-Toe bath wash, and I have been using it ever since. I think I also got a small sample bottle in a Bounty baby pack from the hospital, which you can see me holding in the picture above.
When bathing my little one, I wrap her body tight in a towel and wash her hair in the bath water first, using a small drop of the Johnsons Baby Top-To-Toe wash to make up a bit of lather on her head. I don't add any more to the water though, as what was on her head is enough for now.
The body wash leaves her smelling delicious, good enough to eat! It seems gentle on her skin, and doesn't cause any problems. It's easy to rinse off, and doesn't leave any nasty unwanted residue.
When she's a little bit older and has more of a head of hair, I will probably switch to using a baby shampoo for her hair, and keep the body wash for her body...
I know that some mums just use whatever body wash is on special offer at the time, whereas others tend to pick a certain brand and stick to it. I think that changing products can sometimes cause rashes and issues with baby's skin, so that's another reason to stick with one particular brand.
What body wash do you use for your kiddies?