Huggies Gentle Care Baby Changing Pads Review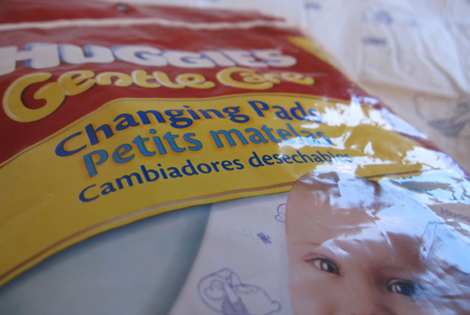 I recently received a little packet of Huggies Gentle Care changing pads which I have been using and I'll write a bit of a review for you guys.
I use a baby changing station in my living room and the top is made from plastic coated foam. I first started using it when I had my baby a few months ago, and she always cried when I set her on it. I believed it was because the plastic was cold. So I started setting down a few slices of kitchen roll to insulate her a bit, and also to aid if there were any little accidents.
I did that for a while, but now I use the Huggies baby changing pads instead. The changing pads keep baby insulated from the cold plastic. They last for days if not weeks, as long as baby doesn't have a little accident on it. If she does, the changing pad soaks up the pee really well, and there doesn't have to be a huge cleanup operation, I just pop the wet pad in the bin.
I felt that the pads were quite large for my little tiny baby, so I cut each pad in half before using it. I'm getting double the use of the pack in this way!
Another idea is to pop one of the disposable pads in your baby bag, for baby changing emergencies when you are out and about.
To be honest, I thought baby changing pads were a waste of money and I wouldn't use them, but I will be buying these in the future.
I'm not sure where the cheapest place to buy these Huggies changing pads is,  but I have spotted them for £2.49 @ Boots.
Do you use changing pads or do you think they're a waste of money?