Gro Anywhere Blackout Blind Review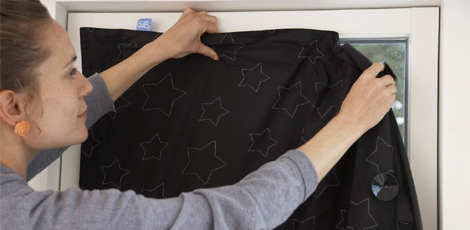 This is a pretty interesting product which I recently came across when trying to find out exactly what I needed and didn't need, to make life easier with my first baby. The Gro Anywhere Blackout Blind from the Gro Company is a really good idea - it's basically a universal blackout blind that you can put on any window.
If you'd like to buy a Gro Anywhere, they're usually available on Amazon and I have seen the price fluctuate between £20 and £30.
The blackout blind is made from a dark, light-weight material, and there are suckers all round the edge to stick to your window. The blind is very big, so would probably fit on just about any window in a normal home. It's also adjustable, with tabs you can pull to make sure that it fits your window well.
I first used it on my spare room when some family members with young kids were staying over. Usually the room is quite bright from street-light leakage, and gets bright quite early in the morning too. When we used the Gro Anywhere blackout blind, the room was very dark indeed, almost pitch black!
Vik1 over on hotukdeals had this to say about the Gro Anywhere Blackout Blind:
These are brilliant - we use it in the house - makes the room much darker and helped us get an extra hour sleep every morning!
I will say that it's probably a 2 person job to get it up properly. Having 4 hands to make sure all the little suckers stay stuck, is very useful.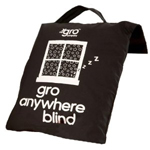 When staying at my sister's house a few months ago, the toddler would wake up very early unless all the light was blocked out from the room. We were wrapping towels and duvets round the curtain rail, just to try and make the room a little bit darker. I wish I had known about the Gro Anywhere back then!
Do you have one? What do you think of it?