Fade Out Skincare & Les Fleurs de Bach Review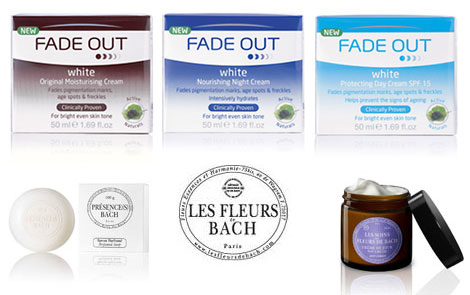 The weather everywhere in the world has gone completely mad, I'm sure!
The hideous minus temperatures we had during December, last week being mild enough to feel positively spring like and now back to frost and minus numbers overnight - I tell you, we'll have more snow before the end of February.
Our skin really does take a beating during the winter months with the constant onslaught of huge temperature changes and if you don't take care of it, it can start to look  dull and tired and feel pretty terrible.
We were sent some Fade Out skin care products which promise to make your skin brighter and lighter in just four weeks, along with some Les Fleurs Bach's products.
So we bundled them all up and sent them off to PlayPennies test-mum, Serena.
Fade Out

Fade out skincare products have been around for over 25 years and have just undergone reformulation.
We sent Serena four Fade Out products:
Fade Out - White: Nourishing Night Cream 50ml (£9.18)
Fade Out - White: Original Moisturising Cream 50ml (£7.99)
Fade Out - White: Protecting Day Cream 50ml (£8.99)
Fade Out - White: Anti-Shadow Brightening Eye Cream (£6.50)

"Three shiny white glass jars of face cream and a tube of eye cream, all promising me brighter and lighter skin, were the first things I took out of the big box that arrived on my doorstep," reported Serena.
There is a lot of science behind the Fade Out products but, in essence, the basic principles are this:
Age spots, freckles and uneven skin tone appear over time due to exposure to the sun and melanin production.  The ingredients in the Fade Out products - Niacinamide, along with mulberry and liquorice - prevent melanin from reaching the upper layers of the skin and making it darker (no good if your a suntan fan as it's the melanin production that makes you go brown!).

These ingredients also fade existing skin discolouration, sun spots and freckles and encourages cell renewal so your skin stays light and bright.
"If your face cream has to smell nice then Fade Out might take a bit of getting used to, or it won't be for you at all; it doesn't smell nice.  It doesn't smell bad either, but you won't sniff it and think, "Ooooh! That's lovely!" Serena told us.
Serena told us that all the Fade Out face creams were very thick without being excessively heavy.
"...firm to the touch is the best way I can describe the texture of the creams. They are wonderful to put on your face - you can just feel your skin breathing a huge sigh of relief and saying 'thank you!'"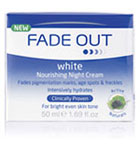 Serena felt that her skin was indeed brighter after four weeks but couldn't definitively say by how much.
"I was tempted, albeit only very briefly, to test the Fade Out creams on just one side of my face and continue with my normal skin care routine on the other half.
But, what IF the difference was really going to be noticeable?! I'd be walking around with one half of my face light and bright and the other half...not!"
Les Fleurs Bach

Les Fleurs Bach are probably best known for their Flower Remedies and have been around forever, well since the 1920s and 30s anyway.
We sent Serena the following Les Fleurs Bach products:
Anti-stress day cream 60ml (£40)
Presence(s) de Bach Perfumed soap 115g (£9.50)
I've come across Bach's products before, primarily their infamous Rescue Remedy that went through a phase of being popular.
Lots of people swear by it and say it really does help you to deal with very stressful situations - at a 96% brandy with a 40% alcohol volume, I'm not surprised *grin*
"I really wasn't taken with these Les Fleurs Bach's products," confessed Serena. "They are massively over-priced for one thing and secondly, anti-stress cream...really?!"
The official information on the Les Fleurs de Bach Organic Anti-Stress range says,
In a skincare first, the new Les Fleurs de Bach Organic Anti-Stress range contains 13 certified organic, holistic treatments designed to answer everyday skincare needs through simple beauty gestures, whilst providing a feeling of calm and inner peace
"Calm and inner peace from face cream...? What a load of hocus-pocus!" was Serena's less than impressed comment on that statement.
"Putting any cream on your face can leave you feeling calm if that's the state of mind you're already in," continued Serena, "when I was rushing around in the morning with a thousand and one things to organise and kids to herd out of the house by 8am, it certainly didn't make me feel calm or give me inner peace!"
No glowing praise for the anti-stress day cream; what about the perfumed soap?
It's part of the Eau de Parfum No1 range - Presence(s) de Bach: "the perfume that helps you feel in tune with yourself" which is said to...
bring you a feeling of well-being and harmony, thanks to its blend of organic blend of organic Bach Flower essences...the uplifting, fresh and relaxing scent of Presence(s) de Bach promotes feelings of reconciliation and improved communication with those around you
"I've never heard such a load of old rubbish in all my life!" said Serena, "It's SOAP, very expensive soap at that! I don't find the smell uplifting, fresh or relaxing and if I hadn't already used it, it would have been given away by now.
The only nice thing about it is the clean and simple design of the box!"
And finally...
"I enjoyed using the Fade Out products - the thickness of them and how they felt on my skin was more than a worthy trade-off for their lack of 'nice' smell," Serena concluded, she also felt that the price point was pretty spot on.
She was very clearly not impressed with the Fleurs de Bach products, feeling they were over-hyped and grossly over-priced.
Fade Out products are available from independent pharamacies and Boots and the Les Fleurs de Bach Anti-Stress range is available from their wesbite www.lesFleursDeBach.co.uk