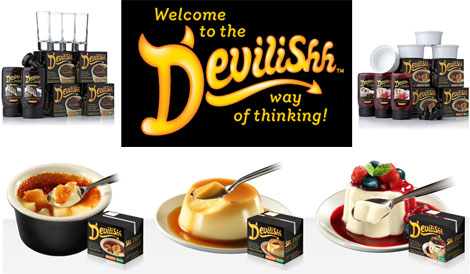 Sometimes review products land on the PlayPennies desk that we just don't want to part with - generally anything to do with food.
QVC really tested our resolve for spreading around the 'food love' when they sent us a selection of DeviliShh desserts to review; it was with heavy hearts, and tears and tantrums from some, that we sent them off to PlayPennies mum, Tracy, to try out.
"I was, naturally, very keen to review the desserts for PlayPennies," Tracy said, "especially as the name 'DeviliShh' suggests something rather scrummy and indulgent was heading my way."
Tracy also told us she was rather intrigued as to how they were going to arrive.
Were they going to come presented by waiter on a silver platter a'la the cooking competitions on TV?  Were they cold puddings that were ready made and could be eaten hot or cold? What?
"I must confess to being taken by surprise when the DeviliShh desserts arrived," Tracy told us, "there were about eight boxes of Creme Caramel puddings, one box of panna cotta, four boxes of pot au chocolate, four glasses, four bowls, two chocolate syrups, one rhubarb and strawberry coulis, a sour cherry one AND a raspberry one too!"
Now you understand why the sighs of remorse about not keeping the DeviliShh desserts in the PlayPennies office were as loud as they were.
You really can't beat wrapping off a meal with some sort of dessert; hot or cold, sweet or sharp, it makes no odds as everyone loves a little something else after dinner.
BUT, not everyone has the time, the inclination, or the skill sometimes, to knock up something fabulous. Sometimes you need a little bit of a helping hand and that's exactly where, according to Tracy, these DeviliShh desserts come into their own.
Chocolate Lovers Indulgence Selection - £22.25
The Chocolate Lovers Indulgence Selection was the first of the DeviliShh deserts that Tracy tried - we would have gone for the chocolate first too.
Following the instructions on the box all Tracy had to do, to make what she described as a 'delicious choccy desert', was pour everything into a pan, heat it until boiling, stir continuously, pour into heat resistant bowls/glassses and chill for one to two hours.
"This was so easy peasy," revealed Tracy, "that it almost felt like cheating! The pudding whips up quickly, smells utterly heavenly and sets REALLY FAST."
Tracy went on to say that by the time she was pouring the mixture into the last glass it was already starting to set.
"I served the glasses of chocolate pud' with sour cherry coulis and even my extremely fussy husband really liked the flavour and texture of the dessert."
Both Tracy and her husband felt the coulis was a nice touch and made a super contrast to the sweetness of the chocolate.
"I liked the fact the entire dessert was done and dusted in under five minutes and that there were precisely three things to wash up afterwards - bowl, spoon and jug," Tracy concluded.
She does have a piece of advice for anyone who decides to give the Chocolate Lovers Indulgence Selection a go, "The only thing that would be a minor problem is the one to two hour wait, but with a bit of forward planning this won't be a problem."
Create Your Own Creme Brulee Dessert Kit - £23.32
Along with all the various dessert making ingredients and paraphernalia comes a recipe for Bread and Butter Pudding; you use the ingredients from the Create Your Own Creme Brulee Dessert Kit to make it.
"You need the creme brulee mixture along with bread, sultanas, cinnamon and nutmeg to make this bread and butter pudding," explained Tracy. "Simply butter some bread, make the creme brulee mixture, pour it over the top and plonk in the fridge for 1-2 hours!"
Again, this seems wonderfully straightforward, faff-free and great for Bread and Butter Pudding fans.
Tracy told us she was a bit suspicious of the non-baking element to this particular DeviliShh dessert. However, the eating element of it seemed to go down well.
"My husband, who loathes bread and butter pudding, really liked this," Tracy told us, "he finished it off when I wasn't looking! It was very more-ish, very filling and incredibly tasty."
Tracy has another tip - I think I shall call them 'Tracy's Tips' - she says, "Just make sure you really cover every inch of bread or it is seriously weird and just like bread and butter with a bit of cinnamon sprinkled on it."
Create Your Own Panna Cotta Dessert Kit - £16.50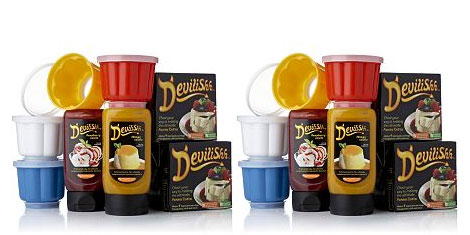 Now this is one dessert I'm happy to pass on to anyone else who will take it, it was also the one Tracy was looking forward to most and, as a result, she went a bit 'Master Chef' on us.
"I decided to get adventurous for the Panna Cotta DeviliShh dessert," she boasted, proudly.
"I crumbled chocolate brownies into the bottom of the glasses and then poured the Panna Cotta on top.  When they'd set they were super scrummy and delicious with that distinctive panna cotta taste on top."
The same basic principles apply to the DeviliShh dessert Create Your Own Panna Cotta Dessert kit as the others: mix it, pour it, chill it, eat it!
The Panna Cotta was Tracy's favourite by far and the chocolate, creme brulee and the creme caramel were huge hits with the kids and the fussy husband.
And finally...
Tracy was completely won over by the DeviliShh desserts we sent her.
"All the desserts are seriously easy and really tasty," Tracy said, "there was a hint of 'Angel Delight' in the chocolate dessert but, really, that only added to the awesomeness."
All of the family agreed that they loved the easiness of making the desserts and how, in spite of this, they tasted amazing rather than plastic and rubbish.
"I have to say I am very impressed," concluded Tracy, "as most instant desserts are a bit yuk and these, while not what you'd find in Gordon Ramsay's kitchen, are really good; I don't see anyone turning their noses up at them. "
So, ideal for busy parents who fancy a treat without the agony of having to slave over something for hours in the kitchen, then further hours afterwards washing up all the chaos and carnage.
Tracy told that on a scale of one to ten she'd give the DeviliShh desserts a nine and a big thumbs up.
Click HERE to see the full range of DeviliShh desserts available at QVC