Daisy Tabletop Wooden Kitchen Review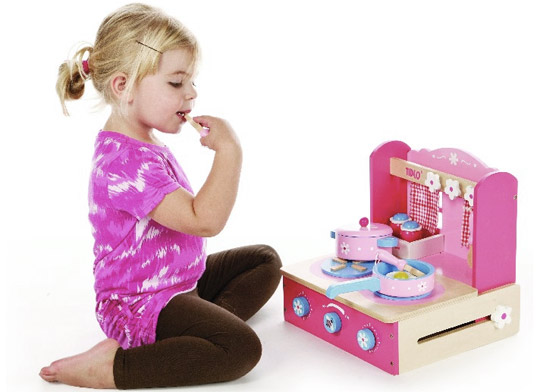 I'll start this Daisy Tabletop Wooden Kitchen review off with a  little anecdote. A few months ago, I set an upside-down pot on the kitchen floor and gave my (then 14 month old) daughter a wooden spoon. Instead of banging it with the gusto only a toddler can muster, she turned the pot over and started to stir the invisible contents. Dear daughter had of course seen me do this many times, while she was in my arms and I was busily prepping dinner at the cooker.
My daughter is now about 17 months old and is really starting to understand the role-play style of learning through play. We were at her playgroup and I saw her playing with the teapot and cups, so I resolved to get her some kitchen items of her very own. I received this cute Daisy Tabletop Wooden Kitchen by Tidlo of John Crane which is about £35 at Dillons Toy Box.
Firstly, a word about the quality of this kitchen: When I took this little tabletop kitchen out of the box, I was a little disappointed when one of the wooden parts seemed to be detached from the toy. I don't think that it was supposed to come apart, but I was able to slot it back into place with ease. Following on from the disappointment in the unboxing, it was all uphill from there.
The actual Daisy Tabletop Wooden Kitchen set is really pretty, lovely colours and cute designs on both the kitchen itself, and on the extra implements. It comes with 3 spoon / spatulas, 2 pots with one lid, salt and pepper shakers, and a fried egg! It also folds up so you can store it away when not in use, which is pretty handy if you don't have much space to spare.
To be honest, I was quite surprised how much my little daughter likes this Daisy Tabletop Wooden Kitchen. It's sitting on the living room floor, and she keeps going back to it to play. She's constantly stirring the invisible beouf bourguignon in the little pots, and carrying them round the house with her. I sometimes find the spoons in various places round my home too; down the back of the sofa, under the kitchen table, in the bath... they get about!
When I was small, I never had a play kitchen and was always supremely jealous of the rich kids in my class with their amazing deluxe play kitchens at home. If you want a little kitchen for your child but haven't got that much spare space or cash, then the Daisy Tabletop Wooden Kitchen could be a good fit for you.