Build A Border Room Decor Review

Decorating a baby's room was one of the most amazing parts of pregnancy. It's such an exciting time, and can make you feel close to and prepared for your new arrival. Of course, later on you might have to change the décor to suit a toddler, and as fads change you might find yourself changing room designs time and again.
Apart from the effort, the cost can really add up – so self adhesive borders and art are ideal, which is where the Fablon/Readyoll Build A Border sets come in.
The children's collections offer a wide variety of decorative products; borders, stickers, foam figures, hooks and more. The range of "mix & match" co-ordinating decorative products provides the opportunity to create a fun themed room that children will adore.
We sent two children's sets to PlayPennies mum Kim to try out and feed back to us.
"I absolutely love the self adhesive 'Build A Border' sets that were sent to me to review. I received the 'Butterflies' set and the 'At Sea' set. As I have a daughter I chose to use the Butterfly set myself and I gave the 'At Sea' pack to my mum to give to the school where she works. They are hoping to use it to decorate a room."

Each pack contains a 5m roll of self adhesive border and 60 self adhesive stickers. The Disney kits retail at the same price but you get over 100 stickers in each pack.
"These sets are such a great idea and the price is so affordable. These would be perfect for children's bedrooms or nurseries. If you are looking for a really quick way to transform a room these are definitely a must-have item. They are so quick and easy to use. I haven't used the wavy edged flowery border that came in my set yet as I want to keep it for when I decorate my daughter's room properly.
I have however used all the butterfly stickers! I went a bit mad with them... I decorated a wall in the nursery, a toy box, wardrobe doors, lamp shade, windows and a mirror. Basically anything I could find that they'd stick to! I had so much fun...I only stopped decorating when I ran out of stickers!"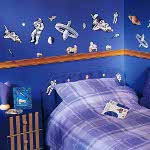 The removable stickers can be placed on any smooth surface, such as a cupboard door or a painted wall.
"The pack says that the stickers are repositionable during application and removable, which I can vouch for as I have tried and tested it" Kim told us. "I cannot however say whether or not these will be easily removed after a few years though - I'm hoping they will be."
We hope so too, as that's the idea!
The 'At Sea' pack contains a wave design border and 60 stickers of boats, fish, starfish, crabs, clouds and more. This is a lovely set that would be perfect to create an ocean themed room.
For my daughter's first birthday this year, we emptied the lounge of furniture and put zoo stickers all over the room. They kept falling off the wall though, so I really wish we'd known about these – what a perfectly inexpensive way to give a themed party a real lift!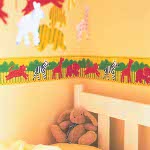 HA Interiors offer a lovely range of children's décor, including but not limited to Safari, Space, Winnie the Pooh, Disney Princesses, Cars, Zoo Time and Teddy Play Time.
As Kim said, "It is nice to see that they do a couple of unisex designs but it is equally lovely to be able to buy really girly or really boyish designs. I can imagine the unisex designs would be good for a nursery when you don't know if you are having a boy or girl or for a bedroom which is shared by brother and sister."
Final thoughts...
So what are Kim's final thoughts?
"Overall I highly recommend these Build A Border sets and I will definitely buy more of them in the years to come. I think if you are renting the property you live in then these are a godsend. Sometimes when you rent you are not allowed to paint rooms and these stickers mean that you now have the chance to transform a room for your child without the need for paint or wallpaper. When the time comes that you leave the property all you have to do is peel the stickers off. So simple!"
We can't help but agree and I can't wait for Spring so we can decorate my daughter's 'little girl' room.